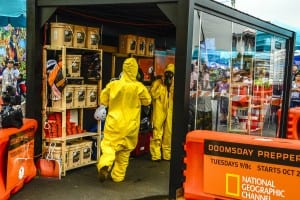 To drive tune-in for the new season of "Doomsday Preppers," National Geographic Channel spent 10 days at the State Fair of Texas in October with an obstacle course that showcased survival tactics viewers would see on the show (the fair officially ran Sept. 27 through Oct. 20). Now in its third season, the series follows a subculture of ordinary people preparing for disaster scenarios, ranging from natural weather events to apocalypses.
The 60-foot by 80-foot course dubbed "Doomsday Dash" sent consumers shimmying through an escape tunnel, climbing a cargo net and over a wall, building a shelter with faux branches and turf covering, shooting arrows, collecting food, filtering water, and using a catapult to toss t-shirts into the crowd of spectators—all while wearing a hazmat suit and gas mask.
After completing the course, consumers posed in the suits for a photo experience that took place against a green-screen overlay with two background options—a white picket fence or an apocalyptic sky. They also had the option of writing a personalized victory message onto a speech bubble to hold up in the shot. The image, branded with tune-in information for the season premiere, was sent in an email that included links to automatically share on social media. The email also contained the consumer's individual "survival score." Topping off the experience was a temporary tattoo station where participants could officially receive an inked "Doomsday Preppers" survivalist badge of honor.
"This series follows real, everyday people, all sides of the political spectrum, all different parts of the country and all different ages, who are just preparing for what might come, so the obstacle course was an opportunity for people to learn some of the tricks of the trade, so to speak, and really dig in and learn a little bit about the show," says Hayes Tauber, svp-consumer marketing at National Geographic Channel. Agency: rEvolution, Chicago.