Move over, Grumpy Cat. The world's "original celebrity cat," 9Lives cat food brand's Morris the Cat, was recently rebooted at the South by Southwest music, film and interactive festival this March, where he served as a feline tech correspondent.
For the beloved orange tabby, who starred in more than 50 TV commercials in the '70s and '80s, the assignment represented a real-world activation of his tech-savvy persona, which was first brought to life in last fall's "Cat's Eye View" wearable technology video. Reporting from inside the Mashable House (the popular tech and culture website's on-site experience), and taking a cue from its "things that broke the internet" theme, Morris's reporting assignments included a technology Q&A with fans to help them troubleshoot common tech problems, interviewing up-and-coming SXSW stars and offering suggestions on how to modify popular gadgets and services to make them more cat-friendly. The interactions were first captured on video as Morris mingled with fans around the Mashable House. His "voice," which delivered his tech advice via a professional voice-over artist, was later added to the footage.
"If the internet had existed when Morris was still alive, he probably would have broken it," says Carrie Schliemann, director of cat food and snacks at Big Heart Pet Brands (9Lives' parent company). "And that was the theme of Mashable House, so for us, [the activation] was a great merger of past and future—the consumers that know him that are online and then a new crowd of consumers."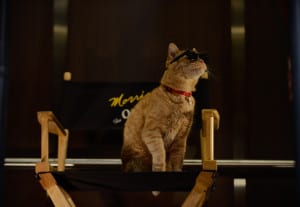 Morris, the real live cat, was supported at SXSW by marketing agency PR Hacker and its team of on-site and off-site videographers, photographers, writers and voice-over artists, who supply Morris' voice. Prior to the festival, the comedy team helped let the cat out of the bag, so to speak, on social media platforms by writing episodic storytelling scripts that documented Morris' daily adventures.
"We brought [Morris] back on Twitter, Facebook," says Schliemann. "He has very, very engaged communities on both. So, for us, [the activation] was really enabling more one-one-one interaction in real life, versus just the internet."
Besides a new generation of fans, what did the cat ultimately, ahem, drag in? A trending YouTube video inside the Mashable House in which Morris demonstrates wearable technology, shares a romantic moment with Katy Perry's Super Bowl Liger and plays foosball with viral meme sensation Left Shark. We love this industry. Agency: PR Hacker, San Francisco.