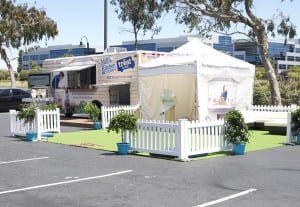 There are pet owners and then there are pet parents, those whose pets have a seat at the table and are served food scrutinized for the source of its ingredients. To reach these discerning consumers and drive trial of its all-natural, Made in the U.S.A. home-style dog treats, Milo's Kitchen is traveling to dog-friendly events and company offices on the Milo's Treat Truck Tour, a sampling activation for dogs. The tour launched at Marina Green Park in San Francisco June 27 and wraps Sept. 7 at Adoptapalooza in New York City.
The tour footprint includes an oversized food-truck style vehicle wrapped in branding, decking, a barbecue grill displaying the Milo's Kitchen treat types, a white picket fence, outdoor seating area with turf grass and bistro tables. The interior of the truck has been retrofitted into a (faux) built-in kitchen with tiling, countertops and appliances. Pet owners can walk up to the window and custom order treats from a display of glass jars. The samples are prepared on personalized plates, or in a personalized doggie bag, and delivered through a service window to the side that's low enough for dogs to sample from. There are giveaways like treat packs, Frisbees and recipe cards; there is also a selfie station under a tent. (Milo's Kitchen enlisted the expertise of its in-house dog behaviorist to give feedback on the design footprint and offer support at eight larger anchor events.)
On-site, consumers can learn about different meet-ups and resources to connect with others who are active and on the go with their dogs. Milo's Kitchen is also leveraging a group of bloggers to spread the word about the treats and tour across their networks. Consumers can follow the action on social media through #MKTreatTruck, or on the program microsite, milokitchentour.com, which includes a tour schedule and photos.
"Food trucks are such a big part of our culture right now, so we looked at all of these human trends transferring into the dog world, like doggie spas and doggie bakers. The treat truck takes the best of those trends and combines them into an experience that really meshes well with the Milo's Kitchen brand—since we enjoy food trucks, why can't our dog enjoy food trucks, too?" says Connie Sintuvat, senior associate brand manager for Milo's Kitchen at Big Heart Brands. Agency: Inspira Marketing Group, Norwalk, CT.