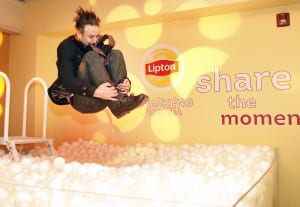 There was a different sort of bubbly on the scene at the Sundance Film Festival—tiny bubbles at Lipton Iced Tea's launch event for its new sparkling tea line. The 125-year-old brand's presence in Park City, Utah, a three-day pop-up lounge, helped kick off a three-month sampling tour to promote the sparkling teas at festivals across the country.
An official launch party took place Jan. 23 during Sundance's opening weekend with a concert by Brooklyn-based alternative rockers American Authors, and an appearance by actress Brittany Snow. Over the three days, consumers were invited in to sample Lipton Sparkling Iced Tea (in lemonade, raspberry and peach flavors), either on their own or in a specialty cocktail. They could also jump into Lipton's Bubble Pit and hunt for premiums, like t-shirts, sunglasses and ear buds. Lipton promoted the launch on social media with #tinybubbles.
Also on-site at Sundance were Lipton's customized retrofitted sampling Airstream campers. Four of these campers are on the road, targeting more than 300 locations across the South, Southeast, Mid Atlantic and Great Lakes regions, including South by Southwest in Austin and the Country Music Awards Festival in Nashville.
The sampling activation experience is designed around "tiny bubbles," which are actually piped from a Lipton sparkling tea can on top of the camper. There are carnival games, like the Bubble Meter (similar to the classic hammer-strike game), and an animated selfie GIF booth. The Bubble Pit is on-site, too. The overall design aesthetic has an Indie-Pop festival feel with draped tea lights designed to attract the brand's Millennial target.
"The tea category in general is on fire—a lot of people don't know this but tea is the No. 2 most consumed beverage in the world—it's a massive category and it has seen a ton of growth in the U.S. recently," says Linda Bethea, senior director-marketing at Pepsi Lipton Partnership. "This was our opportunity to promote this new differentiated lightly carbonated proposition to the tea category and get in front of influencers to drive buzz and anticipation in advance of the retail launch." Agencies (tour): Amplitude Marketing Group, Newtown, CT. Build: Timeless Travel Trailers, Wheat Ridge, CO.
Photo courtesy: Actor David Arquette in the Lipton Sparkling Iced Tea Lounge.
(Allison Yin/Invision for Lipton/AP Images)
This story appeared in the April 2015 issue