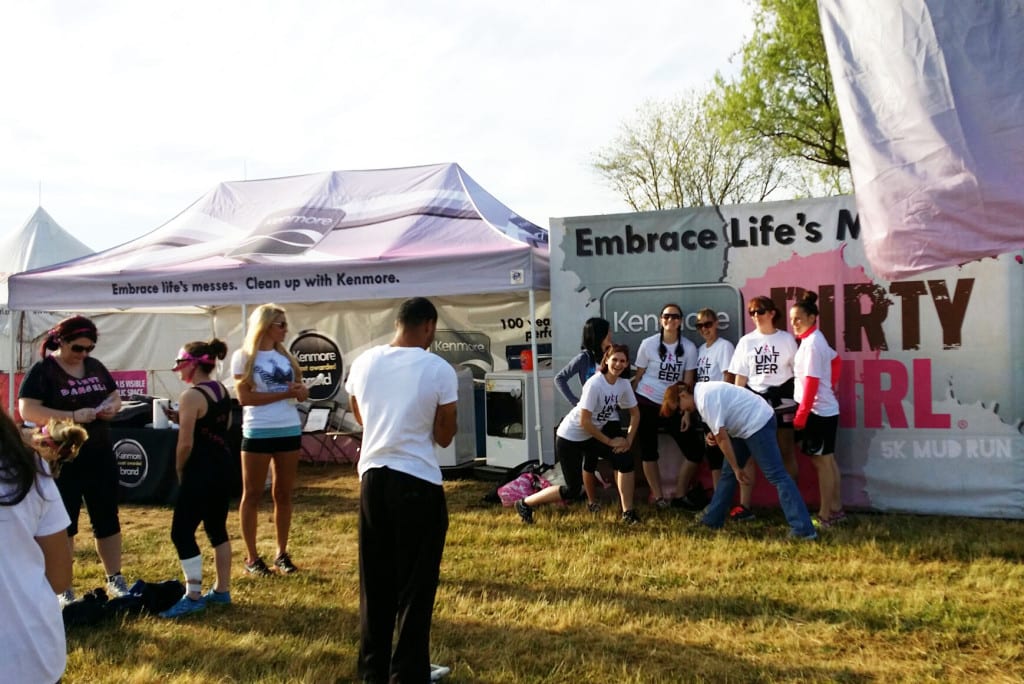 The Dirty Girl Mud Run is just that—dirty. So, for a second year in a row, Kenmore is, quite appropriately, stepping in to help runners clean up with an interactive laundry center at 15 regional race sites. Kenmore is the official household appliance sponsor of the series, an original women-only national 5K muddy, obstacle race event. The partnership, which also supports the nonprofit Bright Pink, kicked off with a race in Sacramento, CA, on March 28, and concludes in Copper Mountain, CO, on Sept. 12.
Kenmore's on-site activation features demonstrations of the new Kenmore 5.3 cubic-foot, Energy Star-rated high efficiency top load washer, as well as the Kenmore 8.8 cubic-foot dryer. After completing the race, participants wash up via outdoor rinse stations and then head next door to the Kenmore laundry center to receive a fresh white towel. (Before or after the race, runners can snap photos against a Kenmore-branded backdrop, and share photos with #KenmoreCleans.)
After toweling off, participants gather to watch their dirty towels go into the washers and come out white and bright. In the meantime, there are a number of sweepstakes they can enter, sign-up lists for Kenmore coupons, as well as a complimentary bottle of water and goodie bag. Among sweepstakes—the chance to win the two machines the brand is demoing, a Run-Day sweeps that offers the chance to take home a new Kenmore Elite blender and the chance to win a $100, $150 or $200 Sears gift card by completing a post-race survey.
A key goal in Kenmore's partnership with the Dirty Girl Mud Run is to collect and develop content to fill its online channels and support a larger social campaign. The brand is capturing video and photos of the action on-site to amplify the experience among prospective buyers online.
"This experience offers that 'Holy cow, I didn't know it could do that!' moment, which is really a fantastic way to demonstrate the machine's ability, a true torture test," says Brian Jochum, senior director-marketing at KCD Brands. "We've done before-and-after studies where we believe we have doubled purchase intent among people who have experienced this at the event." (Louisville, CO-based Human Movement owns and manages the race events.)