JetBlue over one weekend in May pulled the old switcheroo on New Yorkers, capturing their attention with a virtual storefront experience featuring a "digital" crewmember—who ultimately revealed she was interacting with them live and in the flesh from inside the building.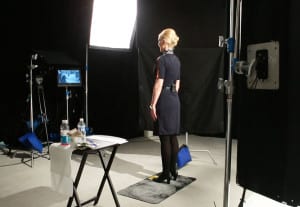 Leveraging disruptive storefront technology in Manhattan's Chelsea neighborhood, JetBlue's A Better Wingman activation employed the surprise and delight method to illustrate the brand's mission to infuse humanity into every customer experience. Using a familiar digital display consumers might see inside its terminal, JetBlue prompted passersby to interact with a seemingly robotic crewmember to learn more about the brand's core offerings.
Eventually, Mary Morrissey, a real-life crewmember who works the brand's premium class flights, emerged from inside the display studio to engage with consumers through meaningful brand conversations that highlighted JetBlue's customer service. Average consumer engagement time was 10 to 15 minutes, reaffirming the success of JetBlue's strategy of using real crewmembers in all of its advertising.
As New York's "hometown airline," JetBlue's Wingman experience targeted state residents, but a social media push on Facebook emphasized the brand's dedication to delivering first-rate customer experiences in other locations via a recap video of the activation. Less than one week after the video release, it had racked up nearly 900,000 views and 1,300 shares, while the live experience saw more than 2,600 unique participants.
"We wanted to create that disruptive experience where people were surprised and delighted," says Phillip Ma, manager-advertising at JetBlue. "We always want to surprise and delight. We always want to over deliver. That's why we're really focused on customer service and this is really a personification of how we inspire humanity." Agencies: Mullen Lowe, Boston (content development and brand planning); Pearl Media, Fairfield, N.J. (media production and event permitting and production).
WATCH—JetBlue's A Better Wingman