Airport. It might as well be a four-letter word. If you haven't experienced gunning it through the concourse and arriving at your terminal with seconds to spare, you probably haven't done much flying. And the reason for all the hustle and bustle is simple: No one wants to spend extra time hanging around the airport.
Such is not the case for JetBlue customers. In fact, seeing consumers spend extra time inside the independent airline's terminals is a common occurrence. Why? For JetBlue, maintaining customer loyalty is all about the experience.
On April 14, in a tribute to Record Store Day (April 18), that experience entailed a pop-up record store and three surprise performances from up-and-coming musicians inside JetBlue's Terminal 5 at John F. Kennedy Airport in New York. Teaming up with Other Music, a well-known New York City record shop that specializes in underground music, JetBlue offered customers a chance to browse, listen to and buy records on-site as they rocked out to live performances.
The activation served as one of the airline's "Live from T5" concert experiences, with a few extra engagements tacked on. The initiative launched in 2009 to serve as a surprise and delight program for travelers and as a promotional tool for budding musicians (although the likes of mega pop stars such as Taylor Swift and Jason Derulo have also been part of the mix).
"The focus is to further enhance our customer experience, so I think it's important for us to be there with our customers as they're actually traveling with us," says Tamara Young, manager-corporate communications at JetBlue.
The Live From T5 events are just one part of JetBlue's overall strategy to create brand loyalty and memorable experiences for its customers.
"We have a terminal that we're proud of," says Young. "We like to have our customers come early. You can see a concert, you can get a massage, you can get food at one of the award-winning restaurants. So it's more of an overall experience when you visit T5, versus trying to rush through it just to get to your flight on time."
As some travelers stopped by the recent Live From T5 record store to check out performances by Elle King, Kevin Devine or Caveman, others perused Other Music's vinyl offerings or put on headphones and listened to records at one of two small listening areas. The engagements could almost be experienced simultaneously, however, as all of the action took place inside one cozy little footprint. The space was reminiscent of a 1960s living room, complete with plaid lounge chairs, old wooden side tables and colorful rugs, and could easily have been mistaken for a place to catch an episode of "American Bandstand" rather than a live concert.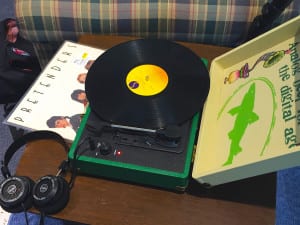 The activation initially got off to a slow start, but with each live performance, more travelers trickled in, suitcases in tow, until the edges of the footprint were filled with observers who bobbed their heads to the music and even laughed at some of the artists' funnier lyrics. The experience generated its intended effects—surprise and delight—for plenty of JetBlue customers in New York that day, but they weren't the only ones who got to enjoy the performances. JetBlue amplifies its live content through marketing and communications channels, as well as in-flight entertainment.
"[Live content] is very important," says Young. "Right now we use it in social media and we also use it onboard."
JetBlue's future live experiences may expand from music into comedy and film as a means of engaging customers with varying interests, but offering live tunes will continue to serve as an important part of the brand's experiential strategy.
"Music is sort of a common denominator of what people enjoy," says Young. "If you're waiting for a flight, you can listen to a song or two and then head out."
Don't mind if we do.
This story appeared in the June/July 2015 issue