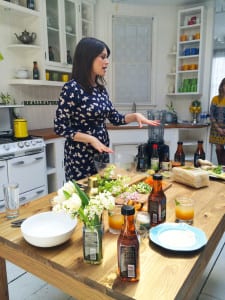 To give the launch of its first-ever TV spot a boost and set its product apart in a competitive category, Pure Leaf Iced Tea hosted an intimate influencer experience at Gray's Loft in midtown Manhattan on April 16. We were there. Here's a look inside.
When attendees arrived at the crisp white penthouse (fewer than 100 people were invited), they were greeted at a welcome desk and invited to pick up a specialty Pure Leaf cocktail from a nearby bar. Among the choices: a charred pomelo twist, made from grilled grapefruit with a smoked salt rim garnish. The open-flow event, which lasted about two hours, had an all-white lounge seating area, cocktail tables and white accents. The atmosphere was relaxed and the hors d'oeuvres were memorable: micro lobster rolls, tuna tartare on watermelon and salted caramel macaroons rounded out the menu. A simple tealeaf graphic with the Real Leaf Brewed campaign name and the hashtag #RealLeafBrewed was placed on walls and on rustic sandwich boards.
Besides the teas, the stars of the experience were Gail Simmons of Bravo's "Top Chef," and tea master John Cheetham (there are only 10 like him in the world). Both were accessible and available for interviews or causal chats. Every 15 minutes or so, Simmons demonstrated two Pure Leaf-inspired recipes in a rustic kitchen set up at the back of the space. The dish: lemongrass scented rice noodle salad, cooked in the iced tea, with shrimp and cilantro. Cheetham took guests through an interactive wall with a Pure Leaf tea plant and tablets that helped explain the brand's brewing process. Attendees could run their fingers through ground green and black tea and taste the two to understand the differences, and blending.
Pure Leaf took the opportunity to film footage in the loft for the popular food video network Tastemade, with Simmons sharing recipes for three summer Pure Leaf cocktails. Some of the experiences will be replicated on the brand's experiential tours and activations during festival season this spring and summer.
"While not the first time we've held media events to communicate our brand story, we did approach this event in a more interactive way," says Kathy Kennedy, brand director at Pure Leaf. "We leveraged the event not only to engage with influencers and media, but also to capture relevant content so we can give our consumers the same experience." Agencies: Olson Engage and Synergy Events.
GALLERY: Pure Leaf Iced Tea Influencer Event