It's been called an economic force and a power vital to U.S. business, one that is impacting every aspect of the American landscape. No, we're not talking about the auto industry, the Internet or smartphones. We're talking about the Hispanic population, which, at 52 million strong, is expected by 2015 to wield $1.5 trillion in buying power.
According to Nielsen's State of the Hispanic Consumer report, issued in the second quarter of 2012, if it were a standalone country, the U.S. Hispanic market buying power would be one of the top 20 economies in the world. That's a lot of clout. Jose Torrens, brand manager-multicultural marketing for Coke, says 86 percent of growth through 2020 for the entire Cola-Cola Co. is projected to come from multicultural consumers, in particular Hispanics.
"We have a major focus on engaging Hispanics through their passion points—whether it be soccer, music or food," Torrens says. "All of our programs look to reach Hispanics through topics that matter most to them, for example, education/scholarship initiatives with our partner the Hispanic Scholarship Fund, or our ongoing efforts to get people moving and enjoying being active again."
Brands of all stripes are tapping into this important demo. According to Nielsen, brand giants from Coca-Cola, Procter & Gamble, General Mills, Unilever and Walmart have all made the Hispanic market an imperative for growth—and event marketing provides a direct path to engagement and purchase. Among the latest efforts, P&G signed on as presenting sponsor for Hispanicize 2013, the annual event held in April in Miami for Hispanic trendsetters in social media, journalism, advertising, p.r., film, music and innovation. Its activations included the Swiffer Abuelita Test, the Tide Fabulous White Party, bathroom makeovers by Charmin, hair styling sessions by Pantene and more. Walmart, already the biggest retail spender in the Hispanic market at $66 million, plans to double its investment. Just who is this Hispanic consumer?
"The Hispanic market's sheer size, growing clout, and buying power of $1.5 trillion by 2015 require thoughtful understanding about what the market represents to a company's bottom line." -Selig Center for Economic Growth, The Multicultural Economy, Athens, GA 2010

"The per capita income of U.S. Hispanics is higher than any one of the highly coveted BRIC countries (Brazil, Russia, India, China)." -Goldman Sachs Global Economics, Commodities & Strategy Research: BRICS Monthly Issue 11/06, June 24, 2011
Like the general U.S. population, Hispanics represent various countries of origin and, for marketers, a wide range of target segments including the bicultural-bilingual consumer who is comfortable in both worlds, the young Hispanic millennial, the Latina, the upscale and the totally unacculturated, the Spanish-only speaking generation and more. A new group, the ambicultural Hispanic, is educated, tech-savvy, bilingual and bicultural but very traditional and family-oriented, a source of aspiration for the less acculturated and inspiration for the more acculturated who want to get back in touch with their roots. That love of family, heritage and tradition is at the heart of the Hispanic population, which despite its diversity shares a passion for community, music, sports, cooking and shopping, all passion points that event marketers can mine to create culturally relevant experiences that resonate with these consumers.
Hispanics are loyal to the brands they grew up with but are open to trying new ones that relate to them in a culturally relevant way. They're also digitally savvy and comfortable with mobile and social media. Major brands continue to forge ongoing relationships with the Hispanic market. They show a level of commitment to the community that is insightful and meaningful to this powerful economic demographic, one that involves much more than hiring some bilingual brand ambassadors or Spanish signage.
As Olivia Vela, director brand marketing-multicultural at Dr Pepper Snapple Group puts it, "It's about being relevant. Relationships are so important to this audience, and it is important to go to market in that way. It is perhaps a little different than efforts targeting other consumer segments."
The Sound of Music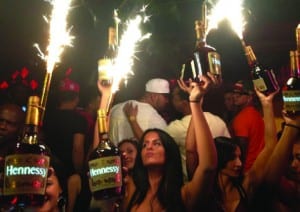 Knowing how important music is to this consumer, 7Up (along with Chrysler, Ciroc, Heineken, L'Oréal Paris, McDonald's and Walmart) returned this fall as official beverage sponsor of the 14th Annual Latin Grammy Awards, which took place on Nov. 21 in Las Vegas.
That sponsorship entails 7Up presence on Univision, the official media sponsor, before and during the show and support for various Latin Grammy Week events such as the Person of the Year gala and the official afterparty. The brand also sponsored a sweepstakes that awarded seven fans the chance to attend this year's Grammys and a VIP concert with Enrique Iglesias. 7Up supported the sweepstakes at retail and on 7Up packaging. But it is the experiential marketing slice that really connects with its core consumer.
"We do all the in-market activities, penetrating the communities, including Latin Grammy street parties that take place in five top markets. We come with huge activation areas where we sample, give away premiums and have activities where consumers can interact with our brand, as well as private acoustic sessions for entertaining our retailers and key customers," Vela says. "For us, it brings it alive" (Eventus, Miami, handles).
Dewar's scotch whisky likewise this summer stirred up the Latin music scene with a "Dewaristas" live band competition in Miami, New York City and San Antonio. The American Idol-type format, which showcased emerging artists and aspiring Latin music stars, awarded the winner the chance to open for Grammy-winning artist Juanes at a private event in Miami in September (Track Marketing Group, New York City, handled).
Celebrating Sports and Community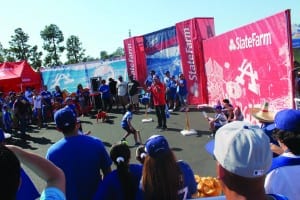 Soccer is the king of sports among Hispanic fans, a fact not lost on Coca-Cola and Bud Light, two sponsors of the Mexican National Team. Coke, a team sponsor for more than 30 years in Mexico and 10 in the U.S., two years ago took that partnership to a new level with Plaza Coca-Cola, a special fan zone filled with music, dancing, interactive soccer games, photo stations, sampling and more. Plaza Coca-Cola also incorporates a 25-foot replica of the Angel de la Independencia (El Angel), a victory column located over Paseo de la Reforma in downtown Mexico City. Before the matches, Coca-Cola's Club Balon Rojo offers soccer workshops to motivate teens to engage in physical activity and inspire them toward higher education opportunities (Agency: Elemento L2, Chicago).
"The program is part of our commitment to the Latino community, letting them know that we have and will continue to celebrate and support their team," says Torrens.
Bud Light, official beer sponsor of the Mexican National Team, activates pre-game Bud Light Tailgate parties for VIP attendees who gain access to the area through radio promotions and by invitation of the local team (Cardenas Marketing Network, Chicago, handles). Also, before each of the matches, Bud donates $20,000 to the Hispanic Scholarship Fund, which benefits Latino students in each market.
This year, Bud Light will contribute $500,000 to the scholarship fund during Mexican National Team games played in the U.S. Baseball is another passion point, especially in Los Angeles where more than half of Dodgers baseball fans are bilingual-bicultural, second- or third-generation Hispanic. To connect with them, two hours before Sunday home games the stadium presents Viva Los Dodgers, a season-long initiative for everyone but geared toward its Hispanic fan base that celebrates Hispanic culture in Los Angeles. State Farm, Chevrolet and Time Warner Cable are presenting sponsors.
Within State Farm's footprint, attendees can have their photo taken catching a ball in a built-out replica of the stands that they can immediately share on their social networks. There is a speed pitch area for the kids, baseball clinics, athlete autograph signings as well as a dj and a live emcee who raffles off Dodgers gear every 15 minutes. Bilingual and Hispanic brand ambassadors educate fans on the brand and capture their information for follow-up. Those who opt-in become eligible for seat upgrades at the game (Agency: Aspen Marketing Services, Chicago).
But it's not all about soccer and baseball. Freeway Insurance connects with potential customers at Pico Rivera Sports Arena, the southern California home of charreada, which is Hispanic rodeo, and jaripeo, Hispanic bull riding, whose core fans are 18- to 50-years old and 75 percent bilingual of Mexican heritage. Freeway provides a VIP experience to invited guests who get to experience a comfortable, prime location for viewing the show, along with food vouchers for traditional foods. Brand ambassadors engage them inside the arena and outside as they wait on line (Mars Media Family, Huntington Beach, CA, handles).
Culture and Heritage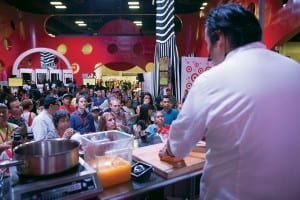 Today's third- and fourth-generation Hispanics are well-educated, bilingual and bicultural, and though they are acculturated and totally assimilated into the mainstream culture, they remain tied to their roots and proud of their heritage, an insight Target tapped into as presenting sponsor for Festival People en Español that took place in San Antonio Labor Day weekend. Target created an on-site activation around the theme "Aquí Cabemos Todo" ("We All Fit Here.").
That experience featured a giant shopping basket inside the Henry B. Gonzalez Convention Center with various stations that hosted activities throughout the day. The women received hair styling tips, makeovers and cooking demos from industry experts such as Univision's Rodner Figueroa, hair stylist Lucio Luciano and others.
A highlight of the event was a surprise performance at the Alamodome on Saturday and Sunday night by Prince Royce, Target's exclusive Latin music artist partner (Agency: Elemento L2, Chicago). Mexico's traditional Dia de los Muertos (Day of the Dead) celebration is a growing platform for brands to reach Hispanic as well as mainstream consumers who are joining in on the festivities in increasing numbers. One of the most beloved Hispanic holidays, Dia de los Muertos is a time when the living commune with their ancestors who return to visit with them. Family members of all ages erect altars with mementos, folk art figurines, candles and fruit; they tell stories and otherwise honor those who lived before them. Nestlé for the second year sponsored the 14th annual Dia de los Muertos event at Hollywood Forever Cemetery in Los Angeles on Nov. 2 as a way to promote Abuelita, its Mexican-style hot chocolate, and NESCAFE Café de Olla, the instant coffee blended with cinnamon and a touch of sugar.
Its activation took place in two 10-foot by 10-foot branded tents that offered a photo booth for social media sharing, arts and crafts, sampling and coupons. In keeping with the tradition of the day, it erected a Dia de los Muertos altar portraying two best friends who have passed on but have reunited over cups of Café de Olla. Nestlé also sponsored a costume contest that awarded $500 in cash to the winner and other prizes. The experience continued at Hispanic retailers in Southern California and Texas where consumers received product samples, coupons, face painting and more (Formulatin, New York City, handles).
Says Janet Uribe, marketing manager at the International Brands Division of Nestlé USA. "These are traditions that are intrinsic to the brand because they have always been there and now that we are seeing more of these celebrations in the U.S., we want to be a part of it." Sounds like Dia de los Muertos is anything but dead, and like sports and entertainment, family and food, music and culture, a lively way to connect with the growing Hispanic market.
8 Ways to Heat Up Hispanic Marketing
1. Grassroots Events
Calle Ocho in Miami, Houston's Latin Fest, Mexican Independence Day in Los Angeles and Dia de los Muertos celebrations across the country are just a few of the opportunities to spread some brand love and samples at grassroots level.
Barcel USA in October took the strategy to new heights, airdropping bags of its spicy Takis snacks from a branded helicopter onto revelers at the Fairplex in Pomona, CA. The festivities included performances by professional aerial pilots, musical entertainment and the winner of an online photo contest skydiving into the party with professional skateboarder Paul Rodriguez (Elemento L2 handled).
2. Music Sponsorships
A pioneer when it comes to Hispanic marketing, Pepsi early on forged relationships with musicians such as Ricky Martin, Shakira, Gloria Estefan and others. This year, as part of its multi-year global "Live for Now" campaign, it popped the top off its "Viva Hoy" platform, aimed at Hispanic consumers.
Pepsi last year was a key sponsor (along with American Family Insurance, Kia and T-Mobile) of a Dec. 6 concert by Latin artist Alejandro Sanz that was live-streamed to 19 countries in English, Spanish and Portuguese. A sweepstakes offered a grand prize VIP trip for two to attend the concert and meet Sanz.
3. Proprietary Music Programs
Though it had worked with franchises such as "Star Wars" and Eminem in the past, Brisk Iced Tea wanted more control over its relationship with the multicultural millennial consumer, so it brewed up its own version of that neighborhood staple, the bodega, the cultural hub of the Hispanic community where its product is sold.
Partnering with Vice magazine's music channel Noisey and Latin media and creative studio Remezcla, Brisk launched a digital musical platform and a summer music event series in 14 U.S. cities. The website briskbodega.com featured video "bodega chats" with musicians, athletes, actors and local celebrities as well as a Noisey video series. Fans could win prizes through the sweepstakes, but they could get up close and personal with the brand at the music events which featured emerging artists and Brisk Ice Tea samplings in pop-up venues such as warehouses with a gritty, authentic, raw feel.
"We wanted to say, 'we are in your community,'" says Eric Whitehouse, marketing director at Brisk.
4. Nightlife Events
As part of its aspirational "Never Stop, Never Settle" advertising campaign, which launched early in 2012, premium cognac brand Hennessy has infiltrated a small group of upscale Latino nightclubs with Team Hennessy Latino, in which a brand ambassador in four markets—Houston, Los Angeles, Miami and New York City—hosts intimate VIP tables for 10 to 12 fellow influencers.
"It's not just about providing the nightclub with samplers," says Manny Gonzalez, director-multicultural at Hennessy. "But it is also providing the nightclub with well-respected Latino influencers and leaders in their own right in their respective markets. We've taken it to the next level" (Strategic Experiential Group, New York City, handles).
5.Achievement Events
Hennessy also partners with major events that spotlight Latino achievement and celebrate individuals who push the limits of their potential. It hosts a VIP afterparty at the Billboard Latin Music Awards, which takes place each year in Miami, and hosts individuals recognized by those awards. Young Latino artists performed at last year's party, which also featured Hennessy drinks inspired by Latin ingredients, such as the Hennessy Blueberry Mojito. The brand also sponsored a VIP afterparty at the NCLR ALMA awards, which recognizes Latino achievement in film, tv and music.
6. Community Events
Recognizing that Hispanics love their flavored milk (indeed, one-half of the milk they consume is flavored versus one-third in the general market), Nesquik has partnered with Boys & Girls Clubs in Boston, Miami and New York City in a program to support after school activities that has brought meet-and-greets with professional sports stars, charity tournaments and donations for equipment purchases, while touting milk as a great snack for active kids and families.
"The real key for us has been the local approach, creating relevant experiences that engage Hispanic consumers," says Daniel Koch, marketing manager at Nesquik (Agency: Good Solutions Group, Pasadena, CA).
7. Amateur Sports
7Up found a perfect fit for its brand with Alianza de Futbol, an amateur Hispanic soccer organization that holds tournaments, clinics and professional scouting programs (Agency: LeadDog Deportes). Besides the 7Up logo on players' shirts, the brand activates a large tented area that vibrates with sampling, soccer activities and challenges, giveaways, photo ops and music and gives pass-through rights to regional retailers if they chose.
"Alianza is a perfect example of connecting with consumers with a passion point that may not be as relevant to non-Hispanics, but for Hispanics we know these relationships are so important," says Olivia Vela, director brand marketing-multicultural at Dr Pepper Snapple Group.
8. Mobile and Social Media
The digital platform is a necessary component in every activation, especially those reaching multicultural millennials. Pepsi promoted its live-streamed Alejandro Sanz concert on its Spanish- and English-language site, MiPepsi, and on Facebook and Twitter. Brisk's consumers interact with the brand on briskbodega.com and on its YouTube page. Dewaristas fans voted online for their favorite band on its website and on social media. And likewise Hennessy.com is very user-friendly in the mobile environment. Its four Team Hennessy ambassadors are active on Facebook, Twitter and Instagram and post the brand's support of Latino events.
This story appeared in the Nov/Dec 2014 issue