If this summer's sampling activations are any indication, small is the new big.
The mass-market sampling sweeps through 30 states that were once the hallmark of a "summer tour" have become tiny, micro-targeted community stop­overs and one-off events designed to win hearts, minds and tastebuds one local at a time. Through local engagement, local artists, local culture and a dash of social media, many of today's beverage and food brands are finding that the best connection is the micro-cultural one.
SoBe is on the road with a sampling tour designed to reposition its brand and reach a new target. Ben & Jerry's this summer is hitting the pavement and its Twitter followers with a hyper-local campaign that gets its ingredients from its tour stops and reinforces its philanthropic brand promise. And MillerCoors is giving its new brew Blue Moon Agave Nectar more of an indie flavor with a launch strategy that matches DIY-enthusiasts with its take on craft beer. We take you inside all three.
---
SoBe Seeks a New Target
Imagine walking along a city street and stumbling into an exotic landscape painted on the sidewalk that made you feel as though you could jump right in. This was the idea behind SoBe's "World of Flavors" sampling tour, which began in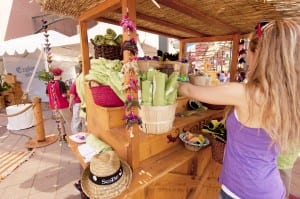 April in Phoenix and hit Denver, San Francisco and Chicago before wrapping up in Boston in late August.
The brand enlisted world-renowned 3D street artist Tracy Lee Stum to paint murals in unexpected locations that represent regions from which the fruits inspired by SoBe Life Water flavors are cultivated. They all, of course, also included the image of the SoBe lizard. Consumers were invited to step into the installations and become part of the living artwork where their image was taken and then made available for sharing across Facebook, Twitter or SMS. Images were also populated on the SoBe Facebook page. From a tiki hut-style booth complete with a thatched roof, brand ambassadors gave away swag ranging from fedoras to t-shirts to portable speakers, in addition to samples.
The tour generated awareness for SoBe's brand repositioning, widening its target audience from what was male millennial-focused, to one that includes a wider swath of adventure-seeking consumers, including Gen X women, whom the brand found is a strong purchaser of the Life Water line.
"We took a step back to look at what SoBe really stood for and who our consumers were, and we're calling them the 'connected explorer,' a gender-neutral, more of a psychographic consumer group," says Julia Bomba, brand manager for SoBe at Pepsico Beverages America. "They really appreciate this idea of the unexpected." Agency: Amplitude Marketing Group, Newtown, CT.
---
Ben & Jerry's Celebrates Local Flavor
Everyone's favorite Vermont-based ice cream maker is on the road again this summer, but this time the brand's sampling tour has a new component—a campaign called City Churn. Through it, fans are encouraged to vote on
Twitter for a limited-batch flavor that will be made from locally sourced ingredients in 11 tour markets located on the East and West Coasts. Unveiling pop-up parties are then hosted two weeks later alongside local ingredient partners where consumers can test out the result. The tour began in April in Miami and San Diego and wraps up in September in Boston and Seattle.
The brand is also using cultural elements of the cities themselves in the voting, for instance counting beards or mustaches in a particular city for a set period of time one day, or counting cabs heading downtown or uptown, with each scenario representing a flavor up for vote. Campaign updates and tour stops are posted on the tour microsite, citychurned.benjerry.com.
The brand has also activated a corporate community service layer to the program, encouraging fans and local partners to participate on or around the day of the unveiling. Recent projects have included urban farming for underprivileged schools in Washington, D.C., and more recently, a July 26 cleanup at War Memorial Park in Yonkers, NY, home of the brand's local partner Greyston Bakery, which supplies brownies for all Ben & Jerry's products. An unveiling of the flavor "Borough Brew" at Pier 57 in Manhattan, with foosball and Ping-Pong, as well as food trucks and ice cream, followed the cleanup. Approximately 1,500 people attended.
"This is a great example of having fun with our fans, creating unique flavors and giving back to our local communities—something the company has been known for since day one," says Justin Gural, who manages events and integrated marketing at Ben & Jerry's. Agencies: Gigunda, Manchester, NH; Flavorpill, New York City.
---
Blue Moon Gets Crafty
MillerCoors this summer skipped the big-budget beer experiences many in its category are known for and instead launched its new summer-style Blue Moon Agave Nectar with a smaller, less conventional approach usually reserved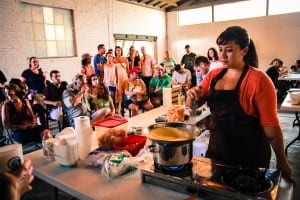 for small-label craft brewers. The activation took place at the GOOD: street food + design market in Sacramento, CA, where local artists L/C Mural & Design created a custom Agave Nectar mural (see the video at vimeo.com/69604020). The market is set up to emphasize good design, good food and clever do-it-yourself culture that stimulates the local economy—all things the brand wanted to tie into.
The brand also contracted with area favorites Kings Tribe Clothing and MAGA Magazine to do live screen-printed GOOD posters for people that tasted the product on site. For food, MillerCoors brought in local celebrity chef Kevin O'Connor to do a Blue Moon-themed street food menu that paired with the new beer. He served up a Latin- inspired menu that included pork belly empanadas and bay scallop ceviche.
A DIY Workshop featured the pastry chef from Sacramento bakery Ella Kitchen & Bar, Jane Anderson, who taught a free DIY Summer Desserts class. The desserts that Jane picked were inspired by the idea that they could easily be paired with Blue Moon. Attendees got to walk away with free dessert and the knowledge to make their own at home.
"I loved the arts and crafts feel we had in this market," says Adam Stockton, distributer for Blue Moon in Sacramento at MillerCoors. "That's the feel of the Blue Moon brand so it all made a ton of sense." Agency: Unseen Heroes, Sacramento, CA.

This story appeared in the August 2013 issue