Pandora on Oct. 18 held a country music event, in an unlikely place—New York City. The event, called Women In Country, was free to Pandora listeners in the Big Apple who had either added stations based on the three female artists who performed—Martina McBride, Cassadee Pope and Raelynn—or had expressed preferences (thumbs up, station adds) that suggested they would enjoy the show. The three women have more than 370 million combined spins on Pandora.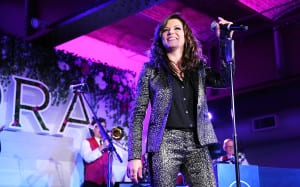 Women in Country is the latest in the music-streaming service's expanding portfolio of live events targeting attendees based on their musical preferences. Earlier in October, Pandora threw a block party for listeners in Los Angeles, and it partnered this summer with Lexus in a series of pop-up concerts. With the  announcement on Oct. 7 that Pandora acquired live events company Ticketfly for a reported $450 million, there are sure to be many more. Ticketfly provides ticketing and marketing software for approximately 1,200 venues across the U.S.
Nearly 600 attendees filled to capacity the spacious first floor of The Altman Building on W. 18th Street in New York City's hip Chelsea neighborhood. Guests mingled amid the purple lighting that bathed the space and posed at a photo op that benefitted the T. J. Martell Foundation. Pandora pledged to donate $5 each time images were shared on social media.
"We could have put on the show in any number of markets. We have the ability to fill rooms all over the country. But we chose New York because we knew that country is relatively underserved in the market," says Lars Murray, svp-Music Makers Group at Pandora. "We also felt it was a great place to raise awareness that women in country are going strong and support the T. J. Martell Foundation in its battle against breast cancer." Agency: In-house.