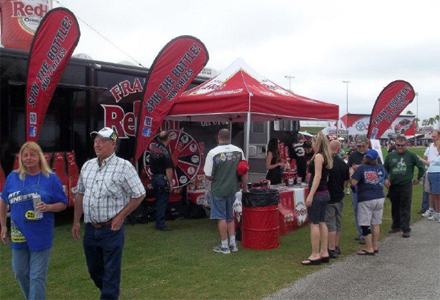 Frank's Red Hot, a product of Reckitt Benckiser, has just wrapped its first-ever mobile tour, the Frank's to the People Tour, a 10-month journey across 25 states and more than 250 stops, designed to bring the sauce to underperforming markets and encourage trial with consumers who've not been introduced to Frank's line of hot sauces. And, according to the early end-of-tour numbers, boy did it hit that mark. Keenan Beasley, senior brand manager for Frank's at Reckitt Benckiser, told Buzz that the tour drove a massive 25 percent increase of share in the markets visited.
The brand visited NASCAR events, the Super Bowl and other major sporting events, state fairs and festivals, spring break markets and college campuses and retailers across the southern states. Tour stops were anchored in sampling, in the form of 1.5 ounce bottles, taster packets and so-called wet sampling, which provided visitors with a variety of Frank's flavors to dip into. There was also a photo activation (technology by PictureU), where each consumer was invited to "Frank Yourself." Brand ambassadors captured photos of attendees on tablets, and built-in software overlay them with Frank's branding. The images were then uploaded to a branded microsite where, in exchange for some data, consumers grabbed and shared their photos. The Spin the Bottle prize wheel gave consumers a shot at some hot takeaways.
"The big goal for us was building trial and awareness in opportunity markets," Beasley told Buzz. "This was the first time we've ever done something this big in the company, and we've found that this was a successful way to build trial in key markets." Agency: Van Wagner, New York City.