Our Curated List of Not-So-Tourist Attractions for the Idea-Seeking Event Marketer
Traveling on business? Have a half-day to yourself? In this series, we explore popular event destinations and mine our sources for lesser-known sites of inspiration, from unbelievable food and beverage adventures to immersive entertainment to, as you'll see below… a little taste of "hon." Consider it a dose of professional development for the experience builder.
With Baltimore native Sandra O'Loughlin at the helm, this month we sail into some of the hidden delights of Charm City. We'll bypass the usual tourist sites such as Fort McHenry, the inspiration for our national anthem, and Camden Yards, the home of the Baltimore Orioles, and forego the blue crabs, plucked daily in season from the Chesapeake Bay and available at nearly every local restaurant in one form or another. Instead, let's hop aboard Sandy's version of the Charm City Circulator, the city's free bus service, for our own special tour, which begins now.
Babe Ruth Birthplace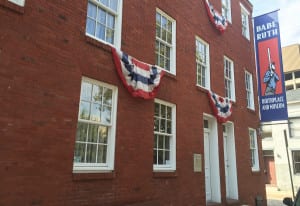 Location: 216 Emory St., steps away from Camden Yards
This small museum on a quiet little street of brick row houses is dedicated to Baltimore's "Babe." There's the room where the Great Bambino was born in 1895, and other memorabilia, including his hymnal from St. Mary's School, his baseball rulebook, posters, videos and a small theater. And for those looking to score a cool venue for a pre-Orioles game party, there's a courtyard, perfect for barbecues, that includes museum tours and tickets to the game.
Experiential nods: Sports, history, memorabilia
More info: baberuthmuseum.org
---
Eubie Blake National Jazz Institute and Cultural Center
Location: 847 N. Howard St.
Inspired by Baltimore native and jazz great Eubie Blake, this cultural center is the whole package, with a museum and art gallery on the first level, multi-purpose rooms for workshops on the second and classrooms for dance, theater and the visual arts on the third. The pièce de résistance, however, is a small concert room with a 1940s nightclub vibe that features tables, a bar, bookshelves lined with album jackets and art prints, a disco ball and, of course, a piano.
Experiential nods: Music, workspaces, theater
More info: eubieblake.org
---
 American  Visionary Art Museum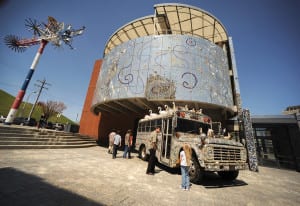 Location: 800 Key Highway
As the official national museum for self-taught intuitive artistry, the AVAM houses, in three historic, renovated buildings, offers artwork created by farmers, mechanics, retired folk, the disabled, the homeless, and the occasional neurosurgeon. There's a three-ton, four-story Whirligig, a mirror-mosaic Gallery-A-Go-Go bus and a Cosmic Egg. Outside: Gardens and a popular summer movie theater.
Experiential nods: Sculpture, inspiration, people
More info: www.avam.org
---
Hampden Neighborhood
Location: Falls Rd. near the intersection of W. 36th St.
Located about five miles north of downtown, and accessible by bus, light rail or cab, this neighborhood is great for getting a glimpse of Baltimore's kitschy "hon" culture. Don't know what a "hon" is? It's short for "honey," and is what women call their friends in this area of the world. A hon typically is decked out in a beehive hairdo, cat-eye glasses and pearls like those fantastic females portrayed in Baltimore native John Water's films "Hairspray" and "Pink Flamingos." Be sure to check out Café Hon. And the annual Hampden HonFest in June.
Experiential nods: Kitsch, culture, antiques
More info: hampdenmerchants.com
---
 The Bromo-Seltzer Tower Clock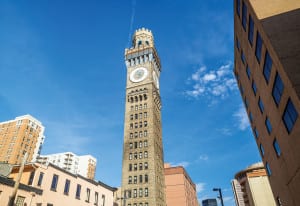 Location: 21 S. Eutaw St.
If you'd like to get a fresh sense of scale for your next creative project, check out this 15-story Baltimore landmark erected in 1911 by the inventor of the famous headache remedy, inspired by the Palazzo Vecchio in Florence, Italy. It's known for its four-dial gravity driven clock—the largest in the world. The 51-foot glowing Bromo-Seltzer bottle atop the structure has long been dismantled, but the tower now houses 15 floors of artists, videographers, photographers and poets whose studios are open to the public on Saturday afternoons.
Experiential nods: Design, art, architecture
More info: bromoseltzertower.com
See also:
This story appeared in the December 2016 issue