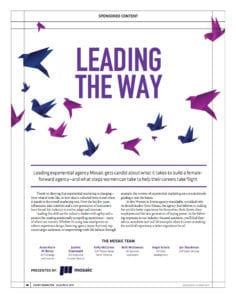 There's no denying that experiential marketing is changing— from what it looks like, to how data is collected from it and where it stands in the overall marketing mix. Over the last few years, influencers, data scientists and a new generation of consumers have forced this industry to evolve, adapt and innovate.
Leading this shift are the industry leaders with agility and a passion for creating emotionally compelling experiences—many of whom are women. Whether it's using data touchpoints to inform experience design, fostering agency teams that truly represent target audiences, or empowering work-life balance through example, the women of experiential marketing are conscientiously guiding it into the future.
In this Women in Events agency roundtable, we talked with six female leaders from Mosaic, the agency that believes in making the world a better experience for themselves, their clients, their employees and the new generation of buying power. In the following responses to our industry-focused questions, you'll find their advice, anecdotes and real-life examples when it comes to making the world of experience, a better experience for all.
The Mosaic Team:
Anne Marie Al-Borno, svp-strategy and creative
Justine Greenwald, svp, executive creative director
Kelly McCarten, svp-Mosaic retail, North America
Beth McGowean, vp-business operations
Angel Scheid, vp-client development
Jen Shankman, svp-client services
Click HERE for the roundtable.