Every conversation in the event marketing industry eventually comes around to technology. You want to know what tools are out there to make your jobs easier, make your programs more successful and most crucially, make your target consumers love you the most. We have heard your calls for help and with this monthly series, EM's own Ken Briodagh will collect and codify the hottest, newest, most interesting, best (and sometimes worst) technological doohickeys available to you. We'll even rate them for you on a scale of  ("Skip it") to  ("Do it now").
Bloodhound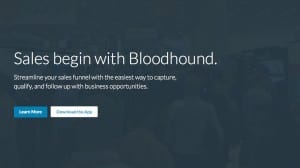 Whether it be at a trade show, sales conference, consumer event or pop-up showroom, collecting connections for potential future sales still all too often winds up being a pile of business cards and a spreadsheet. The time for that is over. Full stop. Bloodhound thinks you ought not only get off the paper trail for collecting, but should be able to qualify on the fly, too. We'll tell you how, but first, the Facts:
Who: Bloodhound Custom Qualification Questions
What: An add-on to Bloodhound's existing mobile lead collection app, which it released in September.
How it works: These folks have set themselves on a mission: destroy the dead-lead-laden virtual Rolodex and replace it with a solid gold hit list of qualified, ready-to-buy contacts. To do that, it has integrated a filtering system into its mobile application that allows the user or brand to define a list of custom questions, either essay or multiple choice, which the brand ambassador or sales rep can ask during initial conversations to get and record important insights about every potential customer.
Why you care: Well, aside from the obvious, because this service is part of a larger mobile app, it allows users in the field to instantly communicate with players back at the home office for follow-up. It's also very fast, once set up with the key questions. In fact, Bloodhound claims you can qualify a lead and report it back to the interested sales folks in seconds. (Side note: the Center for Exhibition Research says that more than 80 percent of show attendees have buying authority, but only 40 percent make the final decision.)
How much: The no frills plan in free; the next step up is $30/month and then you go into custom pricing after that.
Website: bloodhound.com
What we say:  It's not really fair, but I'm rating the whole app together here, since this feature is useless alone. With that said, this is a pretty awesome tool for lead gen, and with this new on-the-fly capability, it's a real winner.
Smartsheet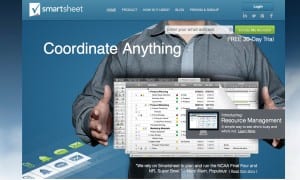 Smartsheet is not, strictly speaking, a lead management tool. In truth, it's really about collaboration between staff members, across multiple events. But that has bearing upon this discussion, since real-time action is often the difference between the first pitch through the door and the first pitch to miss out on the business. We'll tell you how it's relevant, but first, the Facts:
Who: Smartsheet
What it is: Clients include Populous, which organizes events like the Super Bowl and Olympics, and Behr Paints, and they both use Smartsheet to coordinate massive, global systems of events and information. Populous uses it to manage groups of vendors and keep them all up to date on policies, changes and information in real time. Behr put it into play to organize more than 400 mobile tours and facilitate reporting back to the home office. Oh, and both brands used it to replace spreadsheet systems.
Key features: Well, it's easy, cheap, cloud-based, customizable, built for collaboration and real-time ready.
Why it's relevant: Look, even Smartsheet isn't calling this a leads tool, but I think they're wrong. It has all the capabilities you need to use it as such. It's made for enterprise-level collaboration and communication, has a super-simple UI and requires very little training so you don't have to hear your sales team complain about lost time at a meeting, and it works in real-time, so the force is nimble.
How much: Starts at $14/month with the next two tiers at $25 and $39, then gets custom at enterprise level.
Website: smartsheet.com
What we say: It's powerful and tried-and-true for what it is, but I'm advising using it for a not-strictly intended purpose, so it's hard to evaluate how well that'll work. I think it'll work well, though.
Leadferret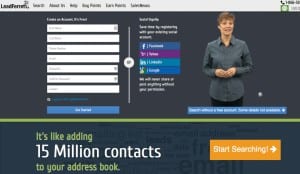 Cheaters sometimes win. Want to go easy, and avoid all of that pesky face-to-face lead generation and, well, work? This might be your solution. We'll tell you what's up and why we're being so snarky, but first, the Facts:
Who: Leadferret
What it is: A huge b-to-b database of leads. One of the biggest publicly available ones. Which is not very interesting. What is interesting is that it's free. Yeah. Like, no money.
What you get: Every record in the database includes company, name, title, address, phone number and email address, so this could be good for e-newsletter lists, cold calls and filling in details on existing traditionally-generated leads.
Pun feature: Each lead is called a "vcard." So don't lose it.
What's the catch? You can only download five leads per day for free, unless you do stuff for them. Like Leadferret on Facebook, get 10 more free leads. Refer a friend, get 50 more, etcetera.
How much: Just go to leadferret.com and create a free account. Then get started searching and downloading. Once you use up your free download points for the day, you can buy more if you want at 7.5 cents per lead.
Website: leadferret.com
What we say: Lame. And not really free unless you're really only looking to fill in details on a few folks, who happen to be in the database. But it is (sort of) free, so go ahead if you want.
See also:
The 2014 Event Measurement Report