A pair of landmark Supreme Court decisions and a new wave of states enacting same-sex marriage have made 2013 a pivotal year for LGBT Americans fighting for equal rights. This influential demographic is stronger than ever, growing with recognition and support more than ever, and marketers are, more than ever, recognizing its potential.
American Express is developing strategies to reach this target, starting from within through PRIDE, an internal network established in 1994 for LGBT employees and allies. While PRIDE launched as a socially focused group that helped the company develop diversity-friendly policies, it is now a crucial business resource as well, with its members using their first-hand knowledge to develop fresh and authentic marketing strategies for the brand.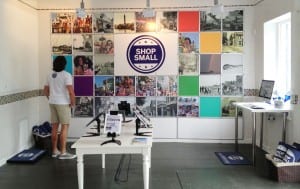 Two years ago, PRIDE took the brand's Small Business Saturday and Shop Small Movement assets and ran with them, creating a customized pilot program that went full-speed this summer, leveraging American Express' long-standing support for the LGBT community to engage small businesses and consumers in Provincetown, MA. The campaign: Shop Small Provincetown.
Provincetown is a top LGBT travel destination that boasts 500,000 visitors throughout the summer. It's also a tight-knit village that values small business, and while the two certainly share common ground, big brands there are, well, kind of taboo.
Wielding a multi-channel approach comprised of personalized interactions, sponsorships and PRIDE managing it all, American Express earned merchant and consumer trust. Here's a closer look at how it happened. Soft Launch Shop Small Provincetown launched with a street marketing campaign in summer 2012 that led to, this past summer, a two-month pop-up store on the main commercial drag, Commercial Street (Grand Central Marketing, New York City, handled).
Before the official opening, the brand conducted what it calls a Merchant Walk, where a team of PRIDE volunteers spent the day greeting merchants, promoting the campaign and handing out custom campaign decals for card-accepting stores. In addition, the brand hosted a free social media workshop. During the five-hour Merchant Walk, the volunteers engaged 170 local merchants.
"I think there is always the question of why a brand is here, what is driving it, and so I think we made inroads by letting people know upfront what our intentions were and what we could provide," says Brendan Marchesani, senior manager-marketing at American Express and co-leader of business development for PRIDE. "What's interesting is this year people recognized us. It's a different face for the company in that the conversations are more personal and not a pitch."
Setting Up Shop
The pop-up operated from early July through Labor Day weekend in a historic building storefront. The sleek, modern interior featured a lounge area and a photo booth with a Shop Small backdrop and local props for consumers to hold. Photos were printed on the spot and then shared automatically, via a cloud server, onto the consumers' social media with the hashtag #amexptown. At a station housing six iPads preloaded with the Shop Small search engine for cardmembers, consumers could enter key terms such as "dining" in Provincetown and receive a list of merchants that accept American Express along with directions on how to find them.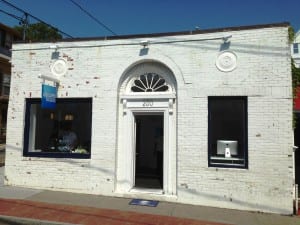 "We wanted to make a bigger impact within the community this year and we just had more information we wanted to talk about, so the pop-up allowed us to invite consumers in and talk more in depth," Marchesani says.
Four hired brand ambassadors lived in Provincetown for the summer to run the pop-up, with two working inside and two on the street each day passing out swag ranging from sunglasses, to sunblock, reusable shopping totes and Frisbees, and index cards with different equality hashtags created by American Express on one side and a fact about the brand's corporate history of equality on the other.
Key Partnerships
To keep the brand top of mind through the summer, American Express sponsored events and partnered with organizations that shape summers in Provincetown, like the Provincetown Film Festival, which took place early in the summer, and the Provincetown Business Guild, which puts on Carnival, a weeklong LGBT celebration (check out my full report on working behind the scenes at this event on pg. 40). The brand also partnered with Here Media, which, among properties, owns Out and Out Traveler magazines, to create a travel guide (outtraveler.com/provincetown), a curated list of merchants and editorial content on where to stay, what to do, and interviews with locals to provide perspectives and represent the flavor of Provincetown.
150 Daily Interactions
This small-town program netted big gains for American Express. There were an estimated 150 personal interactions each day of the pop-up (conversations that lasted more than 30 seconds); there were 35,000 face-to-face cardmember interactions on the street. The brand has seen a 12-percent increase in transaction volume and a 15-percent increase in spend year-over-year. It gained 20-plus new or re-signing merchants. Perhaps the biggest measure of success of all, however, is the number of PRIDE employees that commit to volunteer for the program outside of their traditional roles at the company.
"The reason why I think this group is excited to take on these second roles is because we believe in the organization and the brand, but we also believe in the program," Marchesani says. "This type of outreach hasn't been done before and this provides an opportunity to be a part of that."