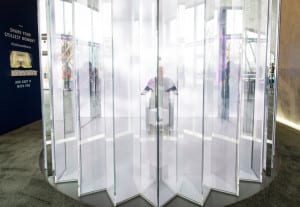 While many event activations are designed to energize and excite, Delta's interactive installation at the TED 2015 Conference, which took place March 16 to 20 in Vancouver, Canada, had the opposite intent—to slow people down as a way to enhance their productivity. The installation, inspired by TED speaker Pico Iyer and his book "The Art of Stillness," exemplifies Delta's strategy to position itself as an innovative and progressive airline to business travelers. The activation offered a less commercial way to connect with the conference's super-influential attendees.
"Our goal was to create an activation that was interesting to people, an experience they would enjoy and talk about and associate with Delta," says Mauricio Parise, general manager of marketing and communications at Delta. "While we promoted the products and services that we develop to keep people productive, we also recognized the other side and created a parallel that was interesting for people to explore, and we did it in a very organic way by partnering with a TED speaker who is an expert in stillness."
The glass and mirrored Stillness in Motion installation was covered in an architectural skin that evoked calm and serenity from the outside and allowed passersby to see what was happening within. Before entering, visitors received a small white heartbeat orb, a central element of the experience. After attendees took a seat and placed their hands on heart-rate sensors, for two minutes the space illuminated and pulsed with light, sound and abstract images that created a relaxing environment during which their heart rate decreased. Their lowest recorded heart rate was recorded on the orb, which they could take with them in a Delta-branded pouch. A camera set up within the installation photographed their stillest moment for social sharing.
After the Stillness in Motion experience, attendees could enter Delta's productivity lounge to try out its WiFi, in-seat power and the Fly Delta app. Live TED Talks played on a simulcast monitor as a reminder that Delta is the only airline offering TED Talks onboard flights.
Out of 2,000 TED attendees, approximately 800 visited the installation. Of those, 95 percent tweeted about the experience. "From a reach perspective, it is not just the 750 tweets," Parise says. "Those people have a massive following, and they will talk about it and then you start accumulating conversation about something that is interesting to them, and Delta is a part of that story." Agency: MKG, New York City.
Photo courtesy: Bret Hartman/TED