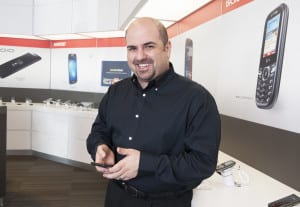 I'm standing inside a fully stocked, 9,000-square-foot retail phone store, eyeing Bose SoundLinks and Jawbone Mini ­Jamboxes. There's a slat wall filled with cell phone cases, chargers and other accessories, but the treadmill where I clip on a Fitbit and follow my running progress on a giant video screen is what grabs my attention. Further back, a miniature model of a home demonstrates how I can use a smartphone to manage my house—and across from the house a racecar track is begging me to come play.
The store is warm and inviting, totally unlike any "telecom" store I've visited in the past. The walls are brick, the floor is hardwood, there's a comfy red seating area where I can recharge my phone. I can buy a baby monitor, ear buds— and of course, a phone. If the picture I'm painting sounds like a huge departure from the telecom stores you've been in, well, it is. I'm inside a prototype of the new "destination stores" Verizon started to roll out a few months ago—retail experiences that will be used to transform both the company's brand and the way consumers shop.
The current retail landscape is more challenging than ever, requiring physical stores to compete with online shopping and convince consumers to spend their hard-earned dollars with them versus the competitor next door. And today's shoppers are fickle, demanding and, thanks to the Internet, armed with information about products and services. Closing the sale is no easy feat. To succeed, brick and mortar retailers in every category, not just telecom, must offer shoppers in-store experiences that are fun, educational and relevant to their lives. Which is why many brands, retailers among them, are turning to the principles of experiential marketing to transform a static, one-way transactional excursion into a deeper, more meaningful shopping experience that consumers will want to engage more than once—and even share with friends in real life and online.
For some retailers, the application of a live engagement strategy isn't a stretch. Many have made forays into their own "mini-prototypes" through pop-up stores or touring activations that offer them the opportunity to test the waters with a product line, a new approach or a variation on their brand. For others, like Verizon, the decision to change up their model and embrace a more consumer-empowered approach that invites customers to play, discover and get hands-on in ways already being played out at events around the world required more than a reimagination of the in-store experience—it required a reimagination of the brand.
"We didn't just reinvent the design," says Domenico D'Ambrosio, executive director-national retail operations at Verizon. "We had to figure out how to reinvent ourselves so we could create that engaging environment."
D'Ambrosio, a 17-year veteran at Verizon who has spent the lion's share of his career with the company in or around retail, emphasizes the customers' role in the process.
"We had customers under non-disclosure agreements who walked the spaces with us and gave us feedback until the very end about what they specifically would like to see in our stores," he says. "We wear that as a badge of honor." The result has turned the concept of high-tech retailing on its head.
Here's a closer look at Verizon's journey from telecom retailer to lifestyle destination brand.
(For a slideshow of images, click here)
The Challenge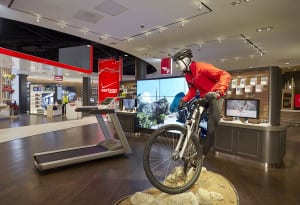 Verizon's goal was to set itself apart from the sea of sameness that, until recently, seemed to plague the cellular and telecom category. Apple, with its sleek design, Genius Bar and untethered checkout, among other innovations, has transformed consumer perception of high-tech shopping, but like anything else, it was time for the next generation.
Design firm Chute Gerdeman beat out 12 other shops for the shot at redesigning the brand's stores, collaborating with experiential marketing agency and builder Sparks, a firm with deep expertise in event marketing and retail design (and a 10-year relationship with Verizon). Working directly with each other, rather than in separate silos, they streamlined the design and fabrication process, saving their client time and money along the way.
The resulting 9,715-square-foot "destination" store, which opened last November just before the holiday season's Black Friday at the Mall of America in Bloomington, MN, is the pinnacle of Verizon's retail reinvention. That store encompasses all the bells and whistles of the prototype, including interactive mobile lifestyle zones dedicated to fitness, music, home life and more, where customers can experience wireless technology in action and discover how it fits into their lives. Additional destination stores are planned for Chicago and Houston.
"It was a proactive vision by Verizon to set the standard higher than what existed today," says Sparks chairman Jeffrey Harrow. "I think they wanted to show the public a whole new shopping experience and let people know how important the brand is in their everyday lives."
Verizon's 1,700-plus stores with smaller footprints will be re-done as "smart" stores that incorporate much of the lifestyle merchandising and interactivity of the flagship but on a smaller scale. The first opened last May in Bridgewater, NJ. Two weeks after that first Bridgewater store, four additional pilot stores—in Saint Clair Shores, MI; Cinco Ranch, Texas; Paradise Valley, AZ; and Union Square in New York City—were up and running.
As of this January, more than 125 locations had been converted to smart stores, and more are in the works.
The Prototype
Long before last year's first grand opening, several service and customer-centric milestones had to be reached, beginning in 2010 with Verizon's 4G LTE service.
"It drove a strong [message around] network performance and speed, but it was also about the depth and ability to have connected devices," D'Ambrosio says. "Going to 4G LTE—it opened up a whole other world."
Step two occurred in mid-2012 with Verizon's Share Everything Plan.
"We took a lot of the guesswork out for customers," D'Ambrosio explains. "All they had to decide was what data package they were going to buy or need based on how many connected devices they had or what their lifestyle was like."
With those two building blocks in place, Verizon began focusing on the stores. Many retailers build prototypes before going live, but few create a fully merchandised, 9,000-square-foot experience within a four-week turnaround. The prototype store played an instrumental role as a testing ground for layout and materials, growing from a few plywood pieces painted white, to a section, to eventually the whole store. Here, no detail was overlooked.
The mock store is air-conditioned and has a sprinkler system. Looking through the windows to the outside wall reveals a faux New York City street scene complete with images of passersby and even manhole covers on the concrete "sidewalk" just outside the door, all to give visitors the impression that they're in an actual store in Manhattan. The project remained top secret for months—even the craftsmen, carpenters and scenic artists who worked at Sparks each day didn't know what was being built behind walls.
Once the company received the final drawings, the prototype came to life within 34 days at its headquarters in Philadelphia and was consumer-ready in April. The prototype served as a lab for Verizon and its design team. Verizon staffers lived nearby, visiting daily over the summer. Focus groups of sometimes 80 people at a time went through it. Area managers and executives from around the country offered feedback. The space was used for dozens of dinners, meetings and executive sessions, even for training the staffers who would man the real stores. The team tweaked, tested, adjusted and perfected every facet of the store experience.
"The benefits and learnings from the prototype have been enormous," Harrow says. The effort resulted in the dynamic Mall of America destination store.
The Real Deal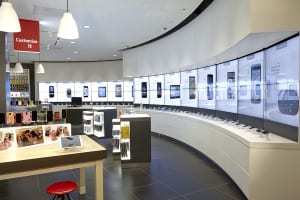 Verizon's extensive consumer research uncovered one basic but very surprising insight that served as the foundation for the redesign—the idea that although technology usually connotes the sleek and futuristic, its customers prefer a more human approach. "Technology and all the connected devices that can make peoples' lives and day-to-day tasks so much simpler can be very, very intimidating, or on the other end, very sterile," D'Ambrosio says. "Our customers have said they want a warm and engaging environment where we can display technology and make it practical for their world."
The result is a store inspired by the home environment where consumers will ultimately use their high-tech gadgets. Exposed brick walls, wood floors, freestanding dark wood displays, Corian countertops, residential-style moldings and other architectural details set the scene. Customers can sit at tables and discuss products with sales associates. Some may describe the environment as a cool loft, others see it as a high-tech playground where shoppers can spend time and explore.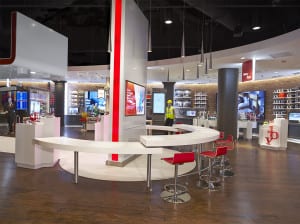 The experience begins outside the store where a soaring glass façade affords a view of the activity within. Interactive window displays that sense when they are near engage passersby in localized digital content that is updated throughout the day. Mannequins that pull a sled, jog or wear a Fitbit lend a human element to displays more typical of a fashion boutique than an electronics store.
Inside, the open layout offers unobstructed views of the store. A wide center aisle leads to the center of a hub-and-spoke pathway where an LED-emblazoned brand monolith featuring the Verizon logo serves as the focal point. The Verizon red "ribbon" starts above the door on the exterior of the store and carries through to the central monolith as an architectural representation of the power of the network
What's more, the stores' design, with premier or "hero" products featured at the front of each zone, facilitates new product displays as innovations come into the marketplace. Lifestyle zones will change based on what becomes important tomorrow. Key products are linked with a phone or downloadable app for additional information. And, if customers choose to purchase on the spot, they can do so wirelessly. No more waiting in line.
"The best retailers create experiences that customers can't get elsewhere, that complement what they see online and on their mobile phones," says Jay Highland, vp-client creative at Chute Gerdeman. "All of those channels have to connect but not be duplicative. They have to build on each other."
Get Smart
But it is the six interactive "Smart Zones," each with a storyline that illustrates how the wireless products, applications and tech gear can be incorporated into the consumers' lifestyle, that, much like a well-planned live marketing footprint, really differentiate Verizon's destination stores.
"Our customers can come in and identify their personal lives with things in the store," D'Ambrosio says. "They can adapt and see and imagine how they can use those products. The stores are set up in a way where the customer decides where they want to conduct business, and we feel they should be able to do that where they feel most comfortable."
Sports and fitness buffs gravitate to the Get Fit zone, a spot where they can choose their run on a beach, through the mountains or other course customized to the region. Wearing a wireless device like a Fitbit, they can hop on a treadmill to compare their heart rate to that of a local athlete. A nearby mannequin seated on a bike portrays another story about Verizon's products and how they can meet the customer's healthy lifestyle needs.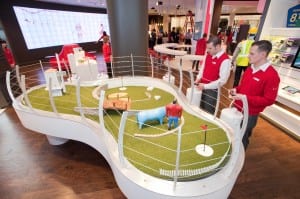 Music fans may prefer Amplify It, where they can mix up playlists, watch exclusive concerts on a large digital screen or dial into local music venues. They can try on headphones and speakers, jump into a dj booth and play with tablets and music apps. Each destination store will offer localized music content. The Mall of America store, for example, has partnered with School of Rock. Directional audio keeps the sound in the zone and throughout the store at appropriate levels.
Home and On the Go features a small-scale model home where people can try out the Nest thermostat and other home management technology products to check the baby monitor, look at the front door camera and more. The entire home, which is tricked out with tiny lawn furniture and even a little barbecue grill, is modular, so rooms and products can be switched out quickly. Three mini-scenarios in Anywhere Business target small- to medium-sized companies. The first describes how technology enables more efficient business travel. A mock flower shop illustrates how a product like Square and other high-tech accessories can aid retail entrepreneurs. A third area, which showcases how Verizon products and eco-systems might help a construction company manage a fleet, fosters b-to-b conversations.
Have Fun highlights smartphone-controlled toys and games. At the Mall of America store, customers can compete with one another using smartphones to guide a robotic Spiro ball through a miniature golf putt-putt course. Scenic designers created miniature local icons like the Spoonbridge and Cherry sculpture from the Minneapolis Sculpture Garden, all to make the experience more relevant. Nearby walls are filled with gaming products that can be instantly purchased.
At Customize It, customers can create custom phone cases at two photo areas. In one, they stand in front of a green screen booth, select a background, snap a photo (much like an old-school photo booth), then upload the image to the cloud. Using tablets at nearby workstations, they can play with the images, crop and filter. Thirty to 45 minutes later they have their custom case. They can also customize an OtterBox case using interactive tablets.
"In the past, customers could come into our stores and take care of their needs, but now they are set up in a way to allow customers to dictate that experience as opposed to us dictating it," says D'Ambrosio.
More Interaction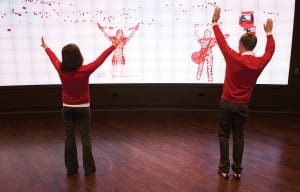 As if six interactive smart zones weren't enough, additional engagement opportunities abound. A massive wall of brilliant Christie tiles uses motion sensing technology to create images of shoppers who stand on a hot spot on the floor, choose among a football player, musician or surfer avatar and start moving.
"It's a huge interactive moment in the store experience that personifies the idea that the network is as powerful as it is because of the human factor," says Highland. "In essence, you make the network come to life."
There's a wireless workshop with a large digital screen and seating around a semi-circular bar where Verizon teaches a curriculum based on the smart zones. An accessories wall mixes product displays and informational digital screens. A curved device wall offers a sweeping view of Verizon devices, which are presented side-by-side versus in groupings as in other stores, so customers can compare and contrast them. Touch screens give the wall energy as well as information.
Customers can sit back on a cozy couch to learn how to manage their at-home media in a setting similar to where they will actually use it. Tablets control the large-screen TV, and Verizon specialists hang out and consult couch-side. Customers can manage accounts and make payments at a workstation, and interactive pillars exhibit Verizon's role as a sustainability, education and healthcare leader. And for those shoppers overwhelmed by these changes, an "experience concierge" can guide them to the appropriate area or specialist.
Even staffing received an upgrade. None of the staffers works on commission, and training took place in the prototype store months prior to launch.
"We combined our training efforts to make sure we are properly positioned within the stores themselves," D'Ambrosio says. "We are now at a one-to-one ratio on tables where reps can stand side-by-side with customers and engage in the product. We're hands-free in the store and able to sit and work with the customer regardless of where we are."
Verizon won't divulge metrics, but D'Ambrosio says its net promoter score and customer feedback are its number one measurements along with foot traffic and employee trust.
"If our employees at Mall of America are telling us they have never seen customers smile so much, that is a huge win, and quite honestly, it is almost good enough for us."
A telecom store experience that puts a smile on your face? Imagine that.
From the February/March issue