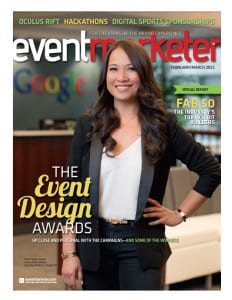 You won't find it in the Merriam-Webster dictionary, but there's a certain "Googleyness" to everything Google does. It's an intrinsic and much sought-after way of doing, being and creating that has made the company so successful, and its events so popular they sell out in a matter of minutes.
There may be nowhere more "Googley" than the annual Google I/O event, which took place over two days last spring at San Francisco's Moscone Center. First there was the unmistakable 30-foot I/O branding on the outside of the building, then a 20-foot red Google Map pin that marked the spot where the event was held in downtown San Francisco, and provided a great backdrop for a photo op. Inside was the familiar registration desk and, also on the first level, areas devoted to Google Glass and the usual gear giveaway, which this time was the Google Watch.
But in 2014, new design elements set a tone that was more sophisticated than in years past. The familiar Google logo was scaled down and touches of blond wood added a hip, industrial feel that was warm, but offered a different vibe from the scrappy, playful Google the attendees used to know.
The environment reflected Google's new design aesthetic, a set of guidelines dubbed "Material Design" that was rolled out during the conference keynote and that developers are charged with incorporating into all new apps built on the platform. The aesthetic is built on a carefully crafted philosophy of light, surface and movement with the goal of creating a consistent look across Google platforms and devices that provides a more enjoyable experience for Google users.
---
---
In keeping with these guidelines, the challenge for last year's conference was to incorporate many of these design concepts into Google I/O itself. "Last year, when we unveiled our new user interface look and feel to our products, we had to rethink how to tell that story in a tangible way to get developers excited," says Merci Niebres, Google I/O executive producer.
Niebres began by hiring architecture firm Iwamoto Scott, whose clean, minimalist style and use of wood aligned with the precepts of Material Design. Along with Scott and longtime lead experiential marketing agency Sparks, which has handled the event since inception in 2008, Niebres and her team redesigned everything, incorporating Material Design principles into the Moscone environment for an integrated, consistent look that carried over into the I/O website, the mobile app, the badges, staff t-shirts, even the photography.
---
"So many times, people go to a conference and never get to experience the city," Niebres says. "This was a way of showing that companies like us wouldn't be successful without the thriving city of San Francisco."
---
Working with the team, Google brought Bay-area touches to the experience whenever possible. Niebres commissioned two local street artists to create custom large-scale digital prints for massive fabric walls covering the brick façade inside the building. The artists also created in real time smaller graffiti canvases at the After Hours party at nearby Yerba Buena Gardens, offering what Niebres called a "love note to developers" that illustrated their contributions to the world. The outdoor fest featured local musicians jamming onstage as guests mingled and noshed on handcrafted tasty bites from San Francisco food trucks and vendors and beers from local microbrewers. "So many times, people go to a conference and never get to experience the city," Niebres says. "This was a way of showing that companies like us wouldn't be successful without the thriving city of San Francisco."
Inside Moscone, Iwamoto Scott covered the ceiling with an origami-like structure created from thousands of individual pieces of 8.5 by 11-inch paper stapled together by the students of their college-level classes. "We wanted to build something that was eye-catching but also in line with this new material design literally. This was beautiful and really changed the environment from conference to 'wow'," says Niebres.
But, it was on the second-level Sandbox area, which housed partner showcases and a learning center for developers, and third floor of the conference, where the strategy behind the new design aesthetic was most evident. For starters, 16-foot wooden frame towers and double-sided A-frames that resembled tall, skinny sandwich boards identified areas of interest instead of traditional signs, for a greener, more visually interesting approach to directional and informational signage that reflected the look of the Sandbox.
The Sandbox, in keeping with the goal of presenting Google as a unified platform, in 2014 removed the bevy of tech companies that in years past numbered as many as 100, each with their individual booths, podiums, counters and laptop screens that gave the space a trade show-like feel. "We rethought that, and wanted to demonstrate the everyday usefulness of Google platforms across the board in peoples' lives," Niebres says. "It was more about telling the story and showcasing the purpose of the platforms."
---
---
As a result, the revised Sandbox featured 12 key partners in individual pods, each tailored to meet their specific needs but with a consistent look reflecting the architectural standards for the conference. Hovering above the Sandbox, two cloud-like forms assembled of Tyvek sheets stapled into chains served as a massive, 21-foot by 27-foot visual focal point. The partner pods consisted of a counter space for displaying product, a pillar that served as an I.D. tower and a sit-down area where people could interact with the product on a device. ESPN, for example, touted its message about broadcasting media from handheld devices and screens, while All The Cooks, another key partner, demoed its app on a mini-kitchenette on the countertop. The showcase for Hotel Tonight contained a space with a couch and loveseat and two doors that people could unlock using its app, which allows users to book hotel stays and use their phones to enter their room.
The remainder of the second level was devoted to the specialized needs of developers and designers. In addition to the usual breakout rooms, numerous "pop-up" session spaces featured additional speakers and white boards with monitors where people could toss around ideas.
Almost every space fostered a collaborative approach for meetings in communal discussion zones and hacker lounges. A Design, Develop, Deploy area walked developers through getting funding, buy-in and, ultimately, how to get a Google app or product into the marketplace. A 28,000-square-foot CodeLab offered an open, hands-on area where developers could experiment with apps and tools for future release on computer stations, follow along with instructors and get tips from experts.
Custom-designed modular furniture in simple parallelogram shapes that nested together in different formations continued the sophisticated design theme throughout the second level. A 10-foot tall "lounge mountain," a series of upholstered forms roughly 30-feet wide, provided a popular gathering point where people could sit and relax on its various levels and watch social media generated by attendees on the Google+ feed displayed on a nearby large LED screen.
---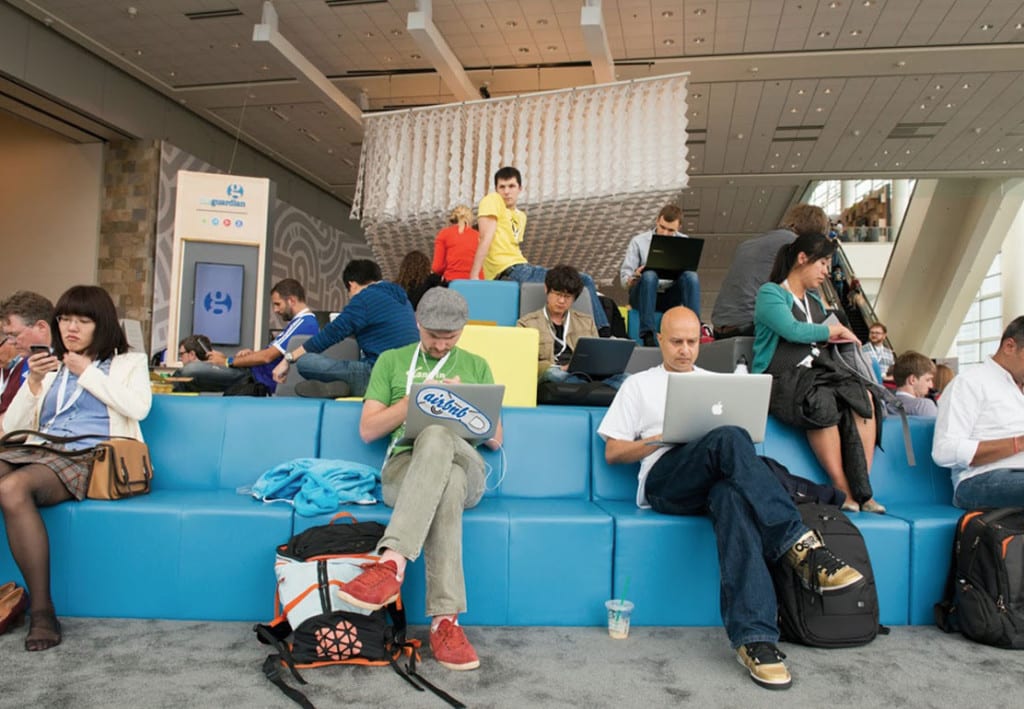 ---
The redesign continued on the third level where a 28,000-square-foot area presented Google products and services in lifestyle vignettes versus the product-centric approach of years past. In Android Auto, for example, vehicles displayed on a carpet inlay that mimicked a highway presented Google's in-car offerings via live demos in the vehicles. Three large LED screens ran content created by the Google Map team that simulated a driving scene to denote the area. The education area presented a classroom setup with white boards. An area for Cloud Platform featured an open-grid ceiling, steel-framed walls and banks of vertical network cables to illustrate Google's data-center story.
There were areas for Android Wear where people could get their hands on Google Watches; a home section; a fitness area dedicated to wearables and health tracking; an area featuring Nest products for the home; and a scenic area dominated by a tree-trunk pedestal with headphones and devices attached featuring Spotlight Stories, a series of animated short videos developed by Motorola for viewing on mobile phones. An enclosure in partnership with Philips featured a kaleidoscope installation using LED light bulbs that could be controlled via mobile phone.
The third level also featured a series of Chrome experiments and an area called Build with Chrome, based on LEGO, that featured demo counters where people could digitally create buildings to scale anywhere around the world using digital LEGO bricks and Google Maps.
"We want to bring Google to life, the brand and the culture," Niebres says. This year it brought Material Design to life as well. Very Googley, indeed.
GALLERY: Scenes from inside Google I/O
This story appeared in the Feb/March 2015 issue