The 90 degree heat didn't deter the crowds at Artscape, one of Baltimore's coolest outdoor events. More than 300,000 people strolled through Bolton Hill, home of the Maryland Institute College of Art and the beautiful Corpus Christi Church, for the city's 32nd rendition of this lively arts celebration billed as America's largest free arts festival and took place July 19 to 21.
This year's theme, No Passport Required: A Cross Cultural Arts Experience, inspired colorful installations representing countries around the world. Amid Egyptian jugglers, Irish dancers, aerialists, food stands and street theater performances, artisans displayed pottery, paintings, apparel and jewelry. (We personally liked the Bugs of Baltimore pins that captured the fragility of these backyard pests so elegantly we'll never be able to swat one again.)
Hip-hop music, reggae, jazz, funk, rock, even the strains of Bach and Japanese sopranos wafted through the air. Festivalgoers filled in artists' murals, comedians popped-up at after-hours comedy shows, art cars rolled out their colorful graphics. And, not to be outdone, sponsors tapped into their inner artist to connect with attendees. Here's a closer look at six of the best activations.
Toyota Goes Places
Toyota, with its line-up of cars, product specialists and interactive engagements, was by far the biggest of the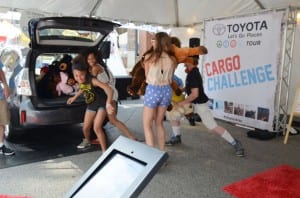 activations, and one of the best. The first stop on its "Let's Go Places" tour, which is presented by the 2014 Corolla, also featured the Camry, RAV4, Prius V and SpongeBob 2014 Toyota Highlander on display under a huge black tent filled with brand ambassadors, informative signage and fun activities.
After filling out a survey and dealer opt-in, attendees answered questions on a feature finder card about the vehicles, such as the hybrid system, extra cargo space and the Entune music system. After receiving stamps for correct answers, they rolled large, fuzzy dice for prizes such as tote bags and SpongeBob sunglasses.
Activities alongside each car continued the engagement as attendees stuffed the back of the Prius V with toys and other items as part of the Cargo Challenge, charged their cell phones inside the Rav4, sent out postcards at the Corolla Custom Letterpress activity or got airbrush tattoos at the SpongeBob Highlander (Agency: Filter Creative Group, L.A.).
Atlantic City Gets Lively
The Live from AC roadshow was as lively as Atlantic City itself, proving that there is more to do at the famous seaside resort than sit at a craps table all day. With a 10-foot, 100-pound balloon hovering above the two-story pop-up, it was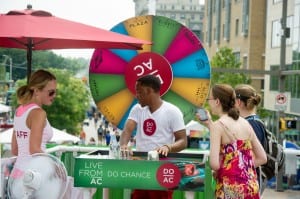 hard to miss the six interactive vignettes that brought AC to life. At the "Do Views" vignette, which highlighted the city's bay and ocean view hotels, attendees could recharge their cell phones. The spa vignette, "Do Chill," spotlighted 12 local spas and offered free back massages, coupons and gift cards for services and overnight stays. At "Do Savor," which touted Atlantic City's dining options, those who correctly matched the chef to the appropriate restaurant property also received prizes and gift certificates. Other vignettes featured the city's nightlife and gaming and a green-screen activation showcased its iconic scenery, such as its piers and beach.
The 10-foot by 40-foot steel and aluminum installation was built with custom wood flooring that recreated the city's famous boardwalk. TVs, furniture, gaming tables and a bar projected an image of the city as sophisticated, sexy, modern and diverse. Friendly Do Crew brand ambassadors answered questions and helped attendees plan a visit to AC. All that was missing was the ocean's roar… and the salt-water taffy (Agency: BMF Media, NYC).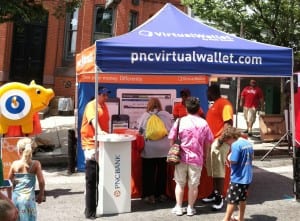 PNC Banks on the Piggy
PNC's eye-catching six-foot tall by seven-foot wide piggy bank, filled with oversized coins equaling between $1,000and $5,000, had festivalgoers lining up to guess how much money was stowed inside. The piggy travels from one fair to the next, awarding the one winner in each market who guesses correctly without going over that exact amount as grand prize. Random daily drawings awarded $100 Visa cards. Attendees also could play a Tail Toss game for smaller prizes and have their photo taken in front of the piggy, which they could retrieve on email and upload for social sharing. But the real winner was PNC, which had sales ambassadors on-site to open its Virtual Wallet accounts (Agency: Eventive, New York City).
Vlassic Offers Pickles to the People
With pickle jars lining its walls and fresh vegetable ingredients and flowers on display, Vlasic's traveling farm stand added a rustic touch to Artscape's urban vibe. From the trailer and branded van, apron-clad brand ambassadors distributed samples of two varieties—Bread & Butter Chips and Kosher Dill Spears. A live Twitter feed showcased reactions to the first bite using the #farmersgarden hashtag. Hey, what's summer without a juicy pickle? (Agency: EventNetUSA, Fort Lauderdale, FL.)
Sparkling Ice Refreshes
Sparkling ICE's inflatable 20-foot by 20-foot air-conditioned ICE Cube provided a cool retreat and tasty samples to Artscapers looking for respite from the summer heat. Attendees tasted five flavors of the sparkling, zero calorie fizzy beverage and posed in the Sparkling ICE FREEZE FRAME photo activation and received a text or email photo of themselves and friends frozen inside the image of an ice cube (Agency: TEAM Enterprises, Fort Lauderdale, FL).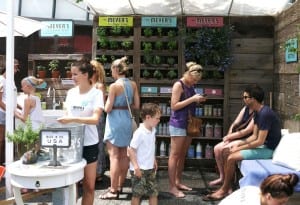 Mrs. Meyer's Cleans Up
The best thing about Mrs. Meyer's Clean Day activation, and perhaps all of Artscape, was the hand washing stationswhere cool water and fragrant liquid soap cleansed tired, sticky fingers. Dubbed Mrs. Meyer's Garden Fresh Tour and inspired by the real-life Mrs. Meyer's garden, this was an inviting product showcase. Brand ambassadors handed out seed packets, samples and product coupons. Those who plant the seeds can tag them online to join the Mrs. Meyer's Clean Day community and earn a prize. Each stop on the year-long tour includes visits to local retailers and community gardens (Agency: On Board Experiential, Los Angeles).