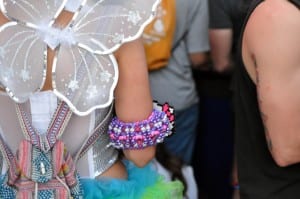 Like disco, punk, rap and even the raves that, well, raved before it, the popularity of electronic dance music has quickly gone from underground to mainstream. And EDM festivals, once known for their driving dance beats (and let's be frank, affiliated drug cultures) have become big business—transforming from edgy millennial dance parties to safe and brand-sponsored events. As a result, this estimated $20 billion industry has hit the U.S. like a tidal wave.
Many big EDM festivals that thrived in Europe for years have made their way to the U.S., and big-time concert promoters like SFX, Live Nation and AEG are getting in on the game, buying up festival properties and facilitating brand partnerships. Cases in point: SFX and Anheuser-Busch announced a partnership in January, Motorola signed on with Live Nation's EDM portfolio this year and Heineken is continuing its longtime sponsorship of the massive Ultra Music Festival in Miami. And these are just a taste of some of the brands carving out a niche for themselves in the EDM space.
Yet despite its recent mainstream popularity, EDM crowds still demand a unique approach. To help you understand who's who and how to engage—cue music (unce, unce, unce, unce) your EDM primer begins now.
The Rock Stars. The celebrities of the EDM scene are the djs. These guys have killer influence and they're savvy businessmen, too. Take Scotland's Calvin Harris. He's the No. 1 artist on Forbes World's highest-paid dj list, making more money than Jay-Z and Katy Perry in 2013 at $46 million. EDM djs are social media magnets with massive reach, too. Harris has six million Facebook fans, just a half million shy of Tom Cruise. American dj Skrillex boasts 15.5 million Facebook fans, almost as many as powerhouse endorsement athlete LeBron James.
When Absolut was looking to dip its toe in the EDM scene but not necessarily get involved in a festival sponsorship, it turned to a dj partnership to create an extended program designed to engage millennial EDM fans. This partnership came together with Swedish House Mafia, a trio of, you guessed it, Swedish EDM djs and producers.
Absolut and the trio worked on a music video centered around their song "Greyhound." The music video used the song's name as a springboard for product integration and ended up generating some 36 million organic views (Giant Step, New York City, handled). Though the trio decided to split up in 2012, it still executed a final tour in 2013, in which Absolut served as sponsor, extending the life of the partnership.
"I saw them play at Coachella and that was incredible. When they opened up with 'Greyhound' which was based on our collaboration, you saw the whole festival light up with energy," says Afdhel Aziz, brand manager at Absolut. "We worked with them on the tour, we worked with them on supporting equally interesting things for their fans. It turned into a real 360-degree collaboration around the song, video, drink, the tour, digital content, the whole works."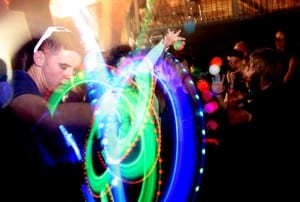 The Digital Imperative. Digital content is indeed king among millennial EDM fans so it's important for brands to connect them to the product in a manner that's sharable and light on marketing speak. This strategy is behind a brand new partnership launched March 12 between Razer, a video game device and software brand, and Dutch dj Afrojack. He's advising Razer on an app about to launch for young producers that incorporates his personal tips and tricks. In addition, Razer and Afrojack will collaborate on cobranded video content where Afrojack will teach a "gaming nerd" how to make a beat with the app. Considering both Razer and Afrojack have a strong social media following, it's content that's scalable on multiple levels (Flavor Group, Los Angeles, handles).
Music is no longer ruled by radio, and through apps like Spotify or Pandora, or EDM sites like Boiler Room TV, fans have the opportunity to stumble upon the next best artist or piece of content that their friends may not know about or have. The lesson here: for brands hoping to engage with the EDM phenomenon, a digital strategy that enables that discovery or acquisition of social currency is just as important as a live one.
The Fans. According to data from Live Nation, the average EDM fan is 28 years old, which makes EDM festivals a magnet for the fast growing and highly influential millennial demographic. EDM events skew higher from a Hispanic perspective than most mainstream sporting events. The average net income for a fan is $75,000.
The Opportunity. Globally, the industry is worth an estimated $20 billion, with major players in the global festival market reaching $4.5 billion in sales in 2012. Digital music revenues grew 9.8 percent in 2012, as did the increase in festival attendees at top events (17 percent). The total number of festivals thrown yearly worldwide grew 33 percent in 2012. And attendance nearly doubled from 2009 to 2013, from 1.9 million to 3.4 million (Source: Massive Advisors).
The Lingo. EDM has its own vocab, so study up. Kandi, an inherent piece of the culture of EDM festivals, is a term for the brightly colored beads that attendees string into bracelets and then trade with fellow attendees (apparently, there's a secret handshake that goes along with this). PLUR, stands for Peace Love Unity and Respect. BPM means Beats Per Minute, in which all EDM is rooted. And a Banger is an awesome song.
Photo courtesy (top): Winter Music Conference