American Express Open, the arm of American Express that focuses on financial services for small business owners, on Nov. 3 in New York City held the fourth in a series of CEO BootCamps aimed at educating and inspiring female entrepreneurs. The CEO BootCamps, along with Small Business Saturday, are part of a strategy on behalf of the brand to drive awareness of its products and services as well as give a boost to small business.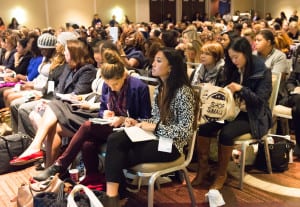 "We believe that as small businesses grow, the economy will thrive, and this is a great way for people to see the dedication American Express Open has to the small business space," says Dayna De Simone, director of segmented content at American Express Open. "This is really the best way our mission comes to life."
The full-day CEO BootCamps are free and open to anyone, card member or not, female or not, but attendance and programming skews toward women. Content streams live for free at openforum.com/ceobootcamp, where women also can connect to an online community. In an interesting twist, attendees of previous events have hosted live-stream viewing parties for business colleagues unable to attend the live event. Smaller events for localized markets are in the planning stages for next year.
The American Express Open BootCamps so far have taken place in Chicago, Los Angeles and twice in New York City and have featured keynote speeches by Angie Hicks, founder of Angie's List, Alexis Maybank, a co-founder of Gilt Group, and others. Breakout sessions focus on the nitty gritty of running a small business. Fashion designer Diane von Furstenburg gave the keynote at the recent New York event, where experts from Pinterest, Twitter, Facebook and LinkedIn led a session on how to leverage social media for business success. Other session themes included "The Perfect Pitch," "Leadership in Action" and "Standing Out in a Crowded Marketplace."
"It is inspiring hearing the stories and the impact that the sessions can have as small business owners go back to their work and are able to take away what they have learned, who they have met, connections that they have made and really change their business going forward," De Simone says. Agency: Momentum, New York City.