Brand ambassadors may be viewed as the face of a brand, but as live experiences continue to flourish, it's more about what's inside their head that counts. Gone are the days of relying on booth babes to recite a brand's story. In today's experiential climate, brand ambassadors not only need to be knowledgeable, but genuinely invested in the brands they represent. They need to live the brand lifestyle pre-event, during the activation and post-event.
"The key for brand ambassadors is grasping the brand's DNA, go-to-market approach and understanding where they personally fit within the overall brand," says David Grass, senior director, client services at Mosaic. "Being able to source brand ambassadors who live the brand and who commit to a holistic brand strategy leads to invaluable continuity across experiential programming."
Here, three tips for transforming your event staffers from temporary hires to invested advocates who care about your brand.
1. Invest in the Interview
The challenge of developing top-notch brand ambassadors begins with the interview process. Hiring people for the sole purpose of having attractive, warm bodies in the right place at the right time is no longer an option. You want people who are fully invested and are going to represent you the same way internal employees represent the brand, suggests Rick Cosgrove, creative director at AgencyEA.
2. Invest in the Training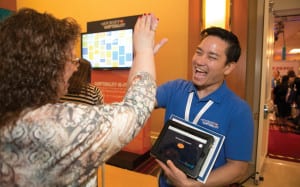 The level and quality of training that brand ambassadors receive is also shifting. At Hampton's 2014 Ultimate GM Huddle, handled by AgencyEA, brand ambassadors (or "journey guides," as they were called) were first put up in Hampton hotel rooms to get a feel for the customer experience. The agency also created a binder of information on the brand's history for the journey guides to study, along with details on the event's floor plans and how the GM Huddle engagements would play out. In addition, role-playing scenarios were conducted to illustrate how journey guides should interact with guests on-site.
"What we're demanding—and I mean that in a positive way—of these brand ambassadors is true buy-in," says David St. Martin, vp-cultural development at AgencyEA. "When they believe in what you're doing, they're committed and they're engaged."
3. Invest in the Social Currency
Social media savvy is a prerequisite for modern-day brand ambassadors. Employing individuals who have the ability to create branded content across multiple social channels has become essential. And the ability to help those along who are new to social media doesn't hurt, either.
At the GM Huddle installation, photo opportunities were the first touchpoint guests encountered upon arrival, as brand ambassadors encouraged taking group pictures then sharing them socially using #hamptonFACT. Although the opportunity was clearly advertised, it wasn't until brand ambassadors began helping attendees post photos online that the engagement took off.
"Oftentimes, the target isn't someone who necessarily understands Instagram or even has an Instagram account, or understands how tweeting works," says Cosgrove. "[Brand ambassadors who can] make it fun, make it accessible, make it painless and take the intimidation factor out is key."

Related links:
• How to Select the Right Brand Ambassador for the Job
This story appeared in the August 2015 issue