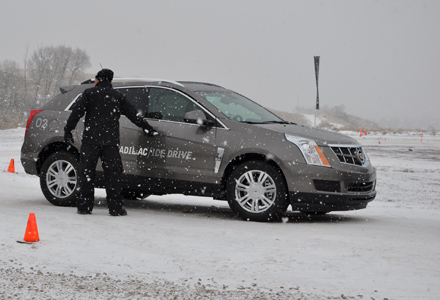 In year one of a four-year partnership with Vail Resorts, Cadillac in December activated a brand experience called Cadillac Ice Drive. The program, which took place Dec. 21-23, showcased the luxury vehicle's safety technologies on slick surface conditions to vacationers at the upscale resort.
The experience began when a complimentary Cadillac Escalade shuttled guests from their hotel to the Ice Drive Lounge for registration, a hot beverage before their drive and a look at the CTS-V Coupe on display. A professional driver led participants through a safety session before they chose which vehicle they would drive, either an SRX or any vehicle in the CTS line.
The Ice Drive course, which was designed to demonstrate safe driving on slick conditions, featured four areas—a straightaway run, a lane change/deer toss, a skid pad and split traction acceleration into an anti-lock brake stop. During the first lap, professional drivers took guests through personal instruction on how the vehicle performs in snow and ice conditions; on the second and third laps they took the wheel to experience the SRX's traction control and the CTS's all-wheel drive technologies. On the final run, the systems were turned off and guests felt the thrill of trying to achieve a 360-degree turn on the skid pad. An in-car video camera captured the action, which was emailed to guests following the event. After the drive, guests who completed a survey received $50 in Mountain Money to spend at the resort.
"The primary goal of Cadillac's four-year sponsorship with Vail Resorts is to drive brand relevance among the luxury-minded resort vacationer using provocative, trip-enhancing brand experiences to shift perceptions of the Cadillac brand, and the Ice Drive was extremely successful doing just that," Steve Haener, national sales promotion manager, Cadillac division, told Buzz. "Not only did consumers have a ton of fun sliding around on the snow and ice, but they also experienced first-hand how key Cadillac safety technologies work together to provide stellar performance even in harsh winter conditions." Agency: Jack Morton, Detroit.
Photo Credit: Doug Letterman