American Express is known for its ambitious activations, and on Aug. 26 at the American Express Rally on the River, the financial services giant delivered once again. To celebrate its long-running sponsorship of the US Open tennis tournament, Amex served up the first-ever hydro-interactive tennis experience at Pier 97 in New York City.
The VIP and cardmembers-only affair featured appearances by tennis pros Maria Sharapova, John Isner and Mónica Puig, comedian Kevin James and musical guest Chromeo—but the real star of the event was the technology that brought it all to life. As the celebrities faced off on a physical tennis court, their interactive tennis rackets translated every move into 3D graphics, animations, sounds and video projections—all in real time—with the help of custom tracking software built by handling agency Momentum Worldwide.
At the foundation of the experience was a massive 40-foot-tall by 60-foot-wide wall of water pumped in from the Hudson River, which ultimately powered the world's first interactive water projection. The display featured five 20-foot segments (three segments formed the width of the structure and two formed the height) of water jets all connected together through a server mechanism that allowed tech teams to control the volume and angle of the water for each nozzle.
"We were able to track these players and display that tracking information in real time on the water as a light projection," says Jason Snyder, chief technology officer at Momentum Worldwide. "Then we could control all of those different light projections by having different types of animation, or forms or figures, that could then be kind of swapped out or generated in real time."
The show also required IMAG, a kind of real-time camera feed that could be projected against the water, and a control system of motorized lasers that wrote information onto the surface of the tennis court.
"All of those things were never designed to talk to each other so we had to build a solution for that and then have people manning each of those control systems," Snyder says.
Many forms of sophisticated theatrical lighting were also a part of the technology mix.
"We had the same sort of lighting package that you would see at a Jay-Z concert," says Snyder. "It was super high-end, industrial-grade lighting that was all computer controlled."
Despite the overall success of the event, the number of high-tech moving pieces brought with it a number of challenges. In addition to time constraints, Snyder and his team had Mother Nature to answer to. During a rehearsal the night before the rally, wind gusts got up to 15 miles per hour. According to Snyder, gusts at that speed or higher would bend the water projection, resulting in distorted images and a soaking wet front row of spectators.
Fortunately, the weather cooperated when the big day arrived and everything went according to plan—a huge relief for those that brought it all to fruition, who had little in the way of a backup plan.
"No one's ever done anything like this before," says Snyder. "And part of the reason people haven't done anything like this before is because there were so many unpredictable elements inside of it and we just sort of rolled the dice and said, 'we're going to control this the best that we can,' and everything cooperated in the end." Game. Set. Match.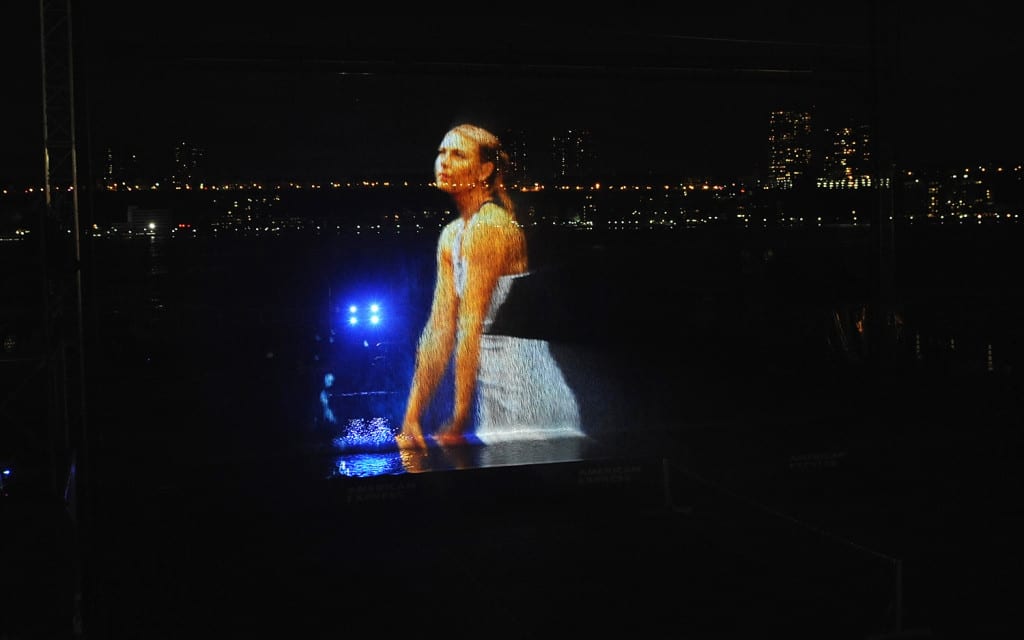 Related links:
• American Express Transforms Tennis with an Interactive Water Projection