Colorado craft beer brand Upslope on Sept. 19 literally sent beer fans up a Rocky Mountain Trail as part of a strategy to release its limited edition Oktoberfest Lager. The effort also aligned with its campaign hashtag, #apreseverything, which positions the brand as an after-adventure cold beer reward. The one-day activation, called Backcountry Tap Room, took place at the end of the High Lonesome Trail just outside of Winter Park, CO, and featured food, fun, music and beer.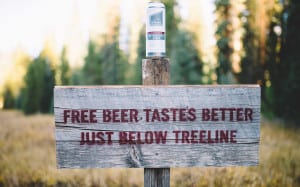 Upslope teased the campaign on Facebook and Instagram, informing people in snippets that its "newest beer is coming to an outdoor location near you," then "free beer with a 2.3-mile string attached," all with the idea to get people to make a day of hiking through the woods with friends, family, even the dog, to reach a backcountry oasis with a rustic bar, stumps to sit on, outdoor games, additional trails and free beer.
"We did this to bring awareness to the fact that we are the 'apres everything beer," says Katie Hill, marketing manager at Upslope. "We want people to reach for us when they are done with adventure or done with whatever victory they have won, whether that be a small hike, or playing a basketball game or going skiing. The objective was to let people know we are aligned with the outdoors and we want to be that beer that you reach for after these activities and adventures."
Despite the lack of cell service, hundreds of #ApresEverything posts appeared on Twitter and Instagram. Attendees who posted photos from the event were entered into a contest that awards the winner free beer for a year. Agencies: Match Marketing Group, Victors & Spoils, both in Boulder, CO.