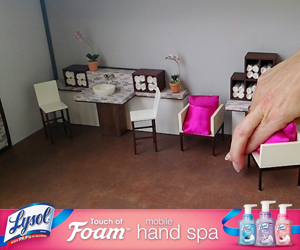 Lysol is showing off its softer side with Lysol Touch of Foam, a new line that offers the sanitizing formula consumers have come to expect from the brand with a moisturizing finish. To drive trial among female consumers, the brand hit the road with the Touch of Foam Mobile Hand Spa. The eight-week tour began on Feb. 25 in Charlotte, NC, and stopped at malls, retailers and shopping districts in 15 cities across the Southeast, East Coast and Midwest regions of the U.S. The final stop was in Boston, April 20-21.
The 24-foot rig and customized trailer featured glass walls and an interior outfitted to look just like a spa with sinks, rolled up white towels and soft music. Consumers could have their hands washed and massaged and then choose between four campaign-inspired tiny "sets" in which to strike a hand pose. Designed by Peter Tucker, owner of Roomboxes Etc., the sets included an art gallery, red carpet with flash bulbs and a step-and-repeat, a spa setting and the New York City storefront of fashion designer Cynthia Rowley, who the brand has partnered with on a label design contest where a winning design will be featured on products on store shelves. The photos were then shared via email or posted directly to consumers' Facebook pages. In addition, brand ambassadors registered consumers waiting in line for the label contest and passed out product coupons.
"Germ-killing and caring for the skin are the two biggest triggers for using a hand soap more and we know that once consumers try the product, they fundamentality feel and see its uniqueness and see that it is different," Gary Rizzo, brand manager-innovation for Lysol at Reckitt Benckiser, told Buzz. "It's not just about washing your hands; it's about the feeling on your hands and the pampering aspect of the product." Agencies: Havas Impact, Chicago; Build: Craftsmen Industries, St. Charles, MO.