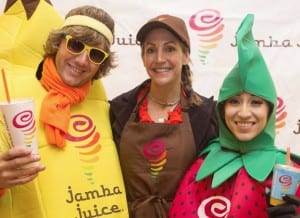 Thinking that the 1,500 campers living in a tent city awaiting the premiere of "Breaking Dawn – Part 2" would want to stretch a bit after sleeping on the asphalt surrounding Los Angeles' Nokia Place, Jamba Juice, the specialty-smoothie retailer, on Nov. 9 gave them the opportunity to do just that. The film is the final episode in the popular "Twilight" series that stars Kristen Stewart and Robert Pattinson.
Jamba Juice, in partnership with Summit Entertainment, which distributes and markets the film, sponsored three 15-minute, "Twilight"-themed workout routines led by fitness instructors from local studios. The "Breaking Sweat: A Vampire Transformation" workouts featured Banana Man, Jamba's energetic, comical brand personality. "Twilight" fans also got to sample eight-ounce Jamba Juice Berry Bitten smoothies, a low-fat drink made with whole fruit that contains no high-fructose corn syrup or artificial flavors. They also received free, collectible "Twilight"-themed, Jamba-branded slap bracelets.
"It was an opportunity to get the fans active and moving and provide a fun treat in a Jamba way," Julie Washington, svp and chief brand officer at Jamba Juice, told Buzz.
Three weeks earlier, Jamba Juice had introduced the limited-time Berry Bitten smoothie in its stores and distributed the slap bracelets free with a purchase of the drink. The brand also sponsored a sweepstakes on Facebook that awarded a grand prize trip for two to attend the film premiere. Agency: Neighbor, Santa Monica, CA.