The AOL Digital Content Newfronts event on April 29 was a standout, and not just because of the original video content it presented onstage at the Duggal Greenhouse in New York City's Brooklyn Navy Yard. On top of an all-star line-up that included Sarah Jessica Parker, Kevin Nealon, Portia de Rossi, Zoe Saldana and more, the event enticed 1,700 hardy media buyers, agency executives and creative types to trek from Manhattan to Brooklyn on a Tuesday night in the freezing rain to experience the AOL Originals Showcase.
"From an AOL standpoint and an event standpoint, I think that alone is something to be said about people paying attention to AOL, what we are doing and what we have to say," said Stacy Lambatos, director of corporate events at AOL. "From a logistics standpoint, it was a small miracle and a big feat."
This was the third year for the NewFronts and the third time AOL participated, touting the original programming, which includes 12 new series and four returning ones that people are watching in increasing numbers on its AOL On Network. The theme for the event was "Connected," which tied to AOL's video strategy of connecting content, publishers and advertisers, and pointed to the eventual link, as technology advances, between digital and TV. AOL chairman and ceo Tim Armstrong kicked off the presentation with stories about the historical significance of the Brooklyn Bridge in connecting two disparate places, a metaphor that related to the company's mission to connect TV and digital. Ran Harnevo, president of video at AOL, added context to the theme by outlining where the industry is, where it is headed and how AOL plans to connect it all.
"We took a bold, ambitious approach this year," Lambatos says. "There is a lot of competition during NewFront week, when all the companies are planning events and hosting clients. AOL uses this event to really put a stake in the ground."
This year, it drove that stake at the Duggal Greenhouse, an industrial space with a cool vibe and great views of the Williamsburg Bridge through its expansive windows. "There was no better place to celebrate the idea of culture, startups and people coming together than Brooklyn," says Erika Nardini, cmo of AOL Advertising. But getting people there safely and smoothly posed a challenge. Duggal Greenhouse can take more than an hour to reach from most places in Manhattan and parking is tight and difficult. The plan for moving people had to be consistent, clear and decisive.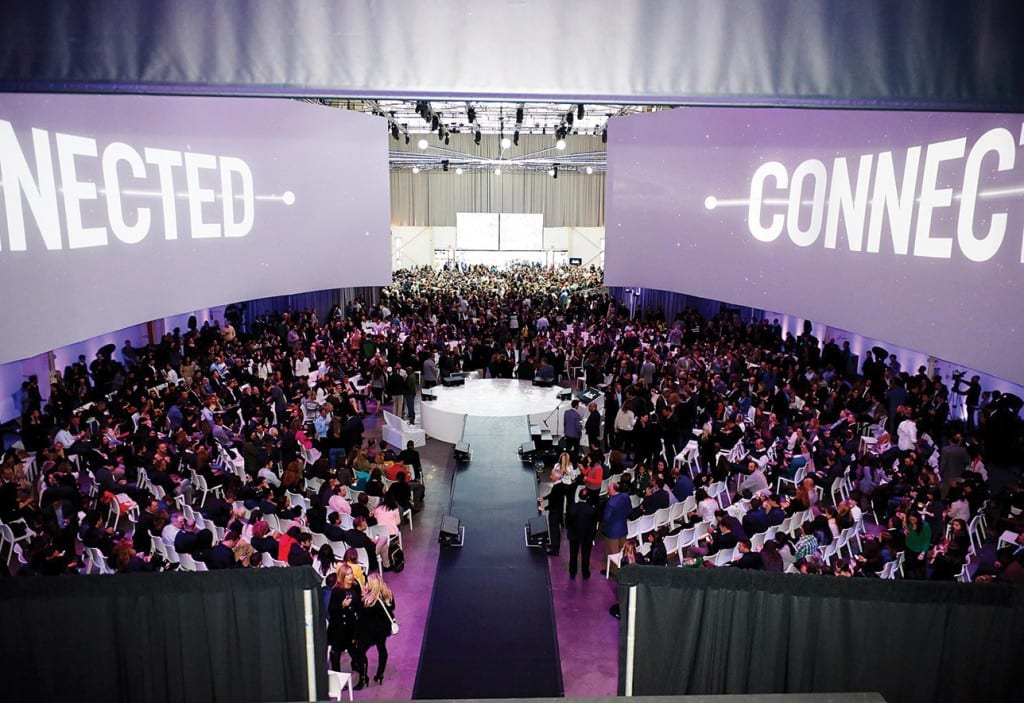 AOL partnered with the New York Water Taxi to provide round-trip transportation from the 35th St. Pier, which is close to Midtown. It provided mini coaches to the pier, and once onboard guests enjoyed cocktails and previews of AOL programming that ran on flat-screen TVs during the 20-minute ride across the East River. For landlubbers, AOL brand ambassadors with signs stood on subway platforms, and the company provided shuttle service to and from key stops. After the event, a transportation army with clear signage and a plan directed attendees homeward through the fleet of town cars waiting outside.
Safety was a top priority. The agency worked with architecture partners, the fire department and the venue to create a safety and fire security plan. "We knew at all times how many people were on-site and how many more were coming," says Adam Suellentrop, director of production at Barkley Kalpak Agency, which designed and produced the event. "And we had secured overflow space next door if we had needed it."
Before the presentations, guests noshed on a Coney Island-inspired menu of hotdogs, pizza, caramel corn and more, presented in an artful, dramatic way. They could recharge cell-phones at a recharging station and have an AOL-branded t-shirt custom-made on the spot.
A 30-foot, round, custom-fabricated "Distro-Bar" ("Distro" is short for "distribution") housed more than 100 devices playing AOL content. Overhead a four-sided projection screen highlighted the publishers that provide AOL On's video content such as ESPN, Martha Stewart, Sports Illustrated, The Weather Channel and more. Both provided a focal point that connected the two messages together in an impactful and expansive way.
The main presentations took place in the round, making the audience feel a part of the experience. Two majestic 120-foot wide by 30-foot tall curved projection screens, served by six projectors each, surrounded the attendees as executives and celebrities took to center stage. Gray draping that disappeared to the eye and blended in covered the Greenhouses's windows and light sources, along with blackout vinyl on the skylights, ensuring the clarity of the presentations. And despite the size of the room, and the 1,100 seats, it felt intimate and inviting.
After the final sizzle reel, guests reconvened for the after-party where a dj and drummer playing along with a projection mapping display kept the energy going. All told, it made quite the connection.