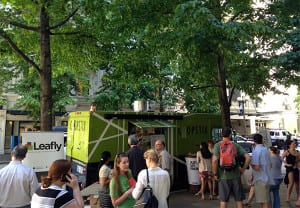 Recreational cannabis is legal in Colorado and Washington state, now, and the trend seems to be one of expansion. As the entrepreneurial space takes note, so do event marketers.
One brand new to the space is Leafly.com, a peer review site for dispensaries and cannabis varieties. It's sort of like a cross between Yelp and Food Network, but for marijuana instead of food. To celebrate the first day of legalization in Washington, Leafly took over Seattle on July 9 with a fleet of food trucks and other activations designed to educate consumers about quality cannabis product, the laws surrounding how to get it, and where.
The brand's goals were simple: support the new recreational licensees and educate the public about cannabis law, while making sure consumers know that Leafly is the place to find all the information they need. It's a national website and app, with major traffic coming from states where cannabis is not yet legal for recreational use, so it was also important to earn some national media. Not a difficult task, considering the topic.
To accomplish all of this, the brand sent out six food trucks loaded up with tacos into the streets of Seattle and parked them outside the six new dispensaries for opening day. Everyone who was waiting in line to get their first recreational smoke (or snack) got a tasty taco treat while they waited. Along with the munchies, the eager consumers also got informational pamphlets, dubbed "Just Say Know," about the new laws, which were designed to make sure the guests started to recognize the brand as the "World's Largest Cannabis Info Source"—the site's slogan. The pamphlets contained info on what is allowed under the new laws and what isn't and also how to find out more on Leafly.com.
Since it's just as important to get home safely after you score your choice bud, Leafly also partnered with Uber to get folks rides to and from the dispensaries at a discount to the riders. The trucks were rolling the streets all week, visiting popular events like a Jay-Z concert and a variety of street festivals that happened that week.
"We wanted to support everyone who was out waiting to get their first legal smoke," says Phil Shalala, coo at Leafly.com. "And while we were at it, help educate them about the regulations, their rights and Leafly."
See also: