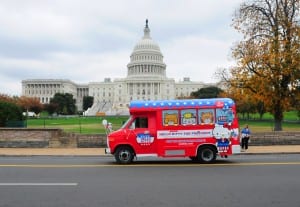 Looking to inject "positivity and fun" into the election season, Sanrio on Oct. 8 launched Hello Kitty For President, a campaign designed to celebrate the iconic cat through social media, and guerrilla-style and on-site activities in Washington, D.C.
Throughout October, brand ambassadors rode through the nation's capital in a bright red bus wrapped in the image of Hello Kitty and her friends, passing out free bumper stickers, buttons and yard signs all supporting Hello Kitty and the "Friendship Party." The "voter canvassing" led up to Sanrio's weeklong Hello Kitty pop-up event, which activated on Nov. 1 in the heart of the city.
The pop-up offered several levels of experiences for consumers including a campaign office with more free giveaways and an activity floor with free Hello Kitty photo opps, mini-makeovers from Sephora (Sanrio's collaborator on the Hello Kitty beauty product collections), a balloon artist and a paper artist who created personalized cutouts of consumers' profiles. The campaign store offered limited edition Hello Kitty collectible products for purchase, like t-shirts, campaign kits, plush toys, tote bags and bows, with all of the proceeds going toward the Red Cross's Hurricane Sandy relief efforts. Sanrio is also supporting the 826DC organization with the sale of Hello Kitty-themed cupcakes at Georgetown Cupcake locations and special t-shirts.
"We have never actually done an event in Washington, D.C.—typically our events are on the West Coast and if we do the East Coast a lot of times it is in New York City," Jill Koch, senior vp-brand management and marketing at Sanrio, told Buzz. "D.C. is somewhat of a serious city and the reaction from people has just been great. In coming up with all the different ideas, for the street team or for the headquarters, we really kept asking ourselves what would make someone walk in, what are the things that would cause them to just look at it and smile, and so that was kind of our checkpoint on everything that we did around the campaign."
As an added digital component, fans were invited to vote for Hello Kitty's "vice president" on Facebook, choosing from one of five Hello Kitty characters. Fans could also download an app and send their friends printable campaign goodies like posters on Facebook, as well as follow the campaign action on Twitter, Instagram and at hellokittyforpresident.tumblr.com.
The pop-up space, located at LivingSocial's property on F Street, played host to special Hello Kitty events throughout the week including an art show and a party after the "votes were tallied." Agencies: in-house; R. Rock Enterprises, Los Angeles; Pressure Point Creative, Portland, OR.