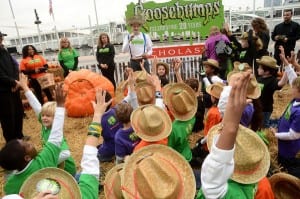 To celebrate the 20th anniversary of Goosebumps, the children's mystery series by R.L. Stine, Scholastic Entertainment on Oct. 25 held an event in New York City that had a local third grade class solving challenges as they traveled through a 2,100-square-foot maze made of corn stalks. The event, dubbed Trick or Read!, capitalized on Halloween to promote the importance of reading.
Located at Pier 86 at the Intrepid Sea, Air & Space Museum, the experience began with the author reading a Goosebumps story written especially for the occasion that contained a call to action to find some missing pumpkins. The 30 kids, divided into four teams each and accompanied by a brand ambassador, participated in 20 challenges within the maze that led to clues that solved the mystery. The scary but fun challenges varied from the intellectual, such as word scrambles and memory games, to the physical, which involved digging through a mini graveyard or other Goosebumps-inspired places to find clues. The students had to read instructions to progress from one challenge area to the next.
The maze concluded in a 900-square-foot pumpkin patch housing a 600-pound pumpkin filled with Goosebumps books for the kids. Scholastic also donated 500 Scholastic books to the school and a Goosebumps library to the classroom. Content from the event appeared on Facebook and YouTube.
"Our goal for the event was to deliver an experience that was on-brand and memorable for the kids, and make it fun," Daisy Kline, vp-marketing and brand management for Scholastic Media, told Buzz. "Goosebumps is all about the 'safe scare' and the notion of expecting the unexpected, and what is more unexpected than a corn maze in the middle of New York City?" Agency: Michael Alan Group, New York City.