Repurposing trade show exhibit elements year to year by popular definition means salvaging existing building materials and rebranding them to reflect a new theme. At the International Premium Cigar & Pipe Retailers trade show in Las Vegas in July, cigar brand Foundry took repurposing to a whole new level—by blowing up its prior year's exhibit.
We're not talking about an actual explosion, of course. It's safe to say the Wynn Hotel, which hosted the trade show, has some strict rules about that. Rather, Foundry took a design concept it had introduced three years ago and used it as a springboard for the 2014 theme of "looking into the future" (Hill & Partners, Weymouth, MA, handled).
Part of the challenge for Foundry was a need to give itself a distinct identity as a growing and evolving brand against its parent company General Cigar Company. While all other General Cigar brands were housed at one trade show booth, Foundry this year had its own booth. The other part of the challenge lay in design: to not be cheesy, or hokey, like the hookah lounge guys next door.
"A lot of this show is breaking through the clutter and we know the competition doesn't do concepts, where you're trying to tell a really interesting and unique story based on historical information or innovation," says Michael Giannini, creative director at Foundry Tobacco Co. "In our industry, it's just about 'Hey man, I found this tobacco and this is what I use,' and everybody uses the same stuff. So for me to talk about our exotic ingredients through a compelling story was fun."
The Starting Point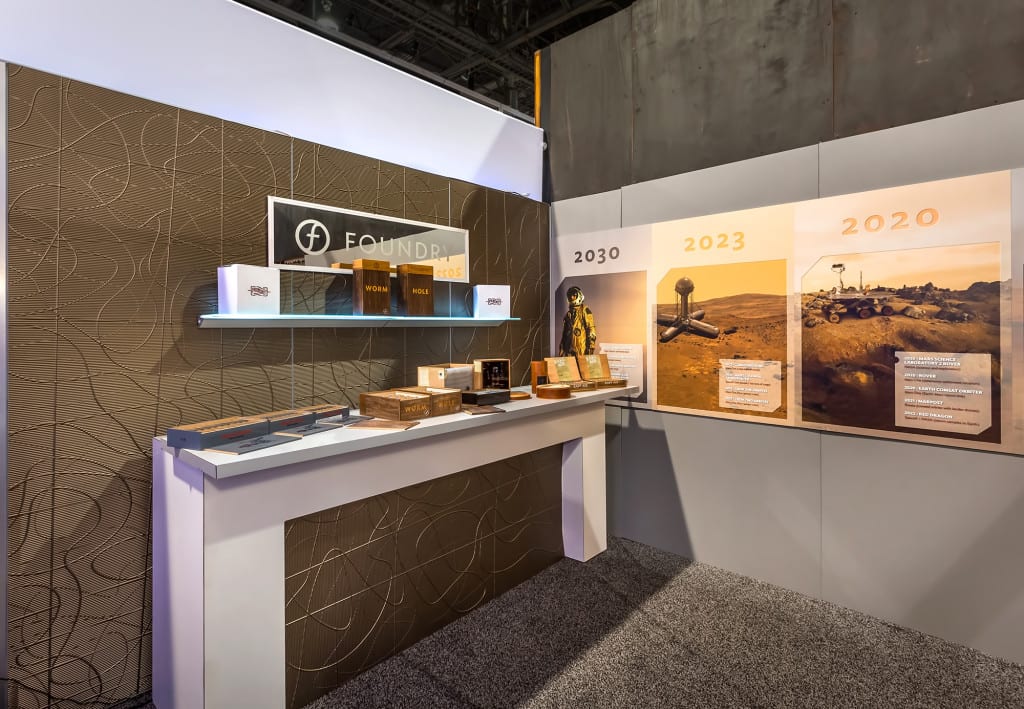 Foundry set the stage for a trip to the future in 2012, when it erected its own 20-foot by 20-foot display within General Cigar's 11,000-square-foot booth. Inspired by the innovative 1800s "steampunk era," the exhibit featured wood paneling, antique rod iron accent lighting, smoke machines, an authentic old cigar roller and other props. All of the exhibit elements were selected based on historical research to support the timeframe and help tell the story.
Moving into the 2013 trade show, dubbed the "staging the madness" year, Foundry transformed that same exhibit into a mad scientist laboratory from 1914, complete with glass lab beakers, real cat skulls and an embalming table (thanks, eBay!). The whole scene begged the question, "Who is this Foundry brand, and what are they up to?" Giannani says.
The Evolution
Then came the 2014 design: a trip from 1914 to 1964 to 2014 and, ultimately, to 2064 and the future of cigars. Each year and corresponding space in the exhibit reflected a cigar blend (with product displays) in Foundry's portfolio.
The exhibit doubled in size and its original elements were strewn about and covered in caution tape, signs were placed askew, and smoke machines periodically filled the exhibit while a Theremin machine emitted spooky sounds on motion activation. Toward the back of the exhibit, attendees went through a "blasted" hole and into 1964, complemented by retro décor and the "Ed Sullivan Show" looping on a black and white television. A wall-mounted timeline revealed the brand's "journey" from 1914 to 1964, and the retro packaging of the Foundry 1964 Expect/Unexpected blend on display.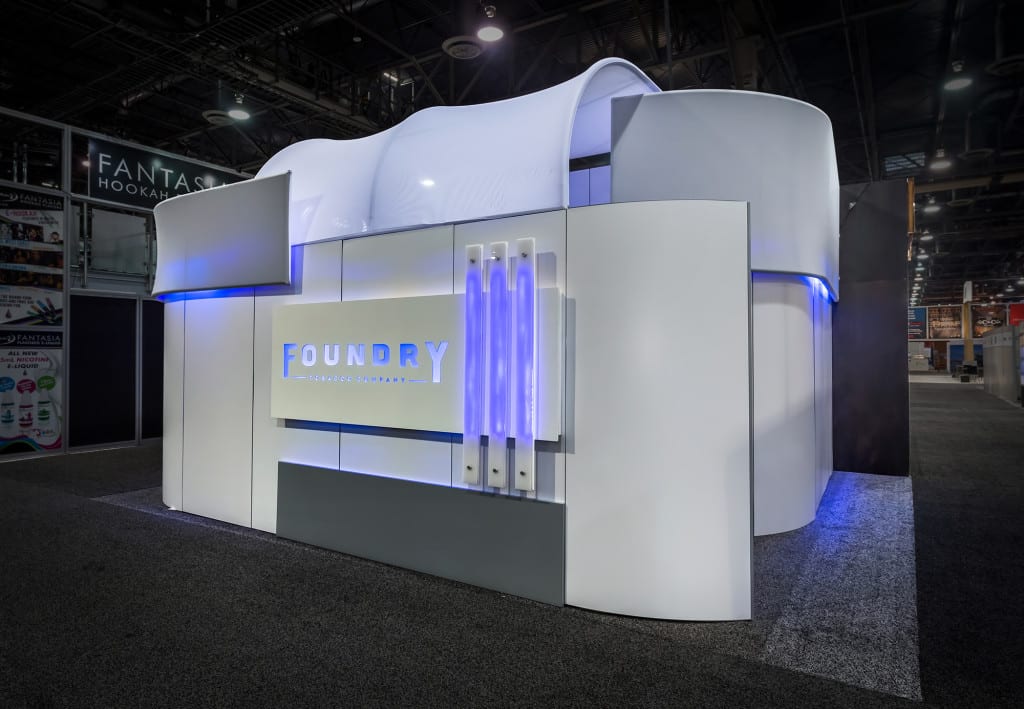 Behind a curtain was the product area for 2014, featuring sleek designs, textured walls and lighting effects. This "high-end" cigar lounge design displayed the new cigar product Worm Hole on a glowing shelf. The fictional timeline then led attendees from 2020 to 2030, as NASA prepared for life on Mars. The final stop: a white, spaceship-like corridor walking attendees 50 years into the future to 2064, which displayed cigars made from "Martian tobacco," and featured futuristic gel LED lighting.
The design strategy served a few purposes: It caught the attention of potential clients (new attendees) and returning attendees were able to see an evolving theme unfold, giving Giannani a creative starting point for sales conversations. In fact, the results this year showed a 45-percent increase in exhibit traffic year over year. But above all, the design concept was strategic in that Foundry could leverage it after the trade show in an ongoing campaign.
"We're bringing it to life in the retail shops, where we're going to create a 'wormhole' inside the store for this tobacco on Mars concept, and then at The Big Smoke, which is a big consumer-facing show in Vegas for two days, we're bringing a smaller version of the booth to tell that timeline again," Giannani says. "So it's seamless, turnkey in a way."
And a 200-year design concept comes full circle.
This story appeared in the Nov/Dec 2014 issue