HISTORY's "Vikings" series, which will enter its third season in 2015, is a story set in 793 AD and filmed in Ireland. As such, all the drama can feel a world-away for viewers. During Comic-Con San Diego, July 24-26, HISTORY decided to give fans the opportunity to get up close and personal with a behind-the-scenes experience.
The "set," which activated outside the convention center, allowed fans to dream up their own Viking persona and star in an action video promo clip. To participate, fans registered on an iPad with basic information including name, contact info, birthday—all to complete their own "cast" page. Each was then handed a printout featuring a unique code that fit into their Comic-Con lanyard passes. Video and images, both formal and candid, from each station within the activation were automatically synced and uploaded to each fan's page with one scan of the pass.
Here's a rundown of the activation stations: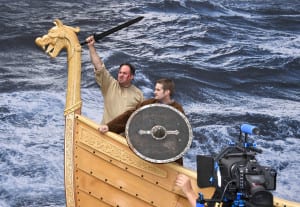 • Hair and Makeup: A "Vikings"-style makeover by a professional, complete with body markings, blood smears, tattoos and hair braiding in an experience much like one the cast goes through on-set.
• Promo Poster: A photo activation taken with different props and wardrobe pieces against a green-screen display of a scenic shot from the series. Each fan walked away with an 11×17 high quality new-season "promo" print featuring their photo.
• 30-Second Video: Two "promo" video ops against a ship or temple backdrop. At the final station, fans scanned their card to view their full "cast" page, complete with profile, character concept sketch, photos and videos from all the experiences. Fans could automatically share these items on social media.
In addition, the actors who portray main characters Ragnar, Lagertha, Rollo and Bjorn signed autographs and greeted fans on-site on one of the activation days.
"When you think about a show, you always want to build your audience, but you also want to reward your super fan," says Chris Epple, vp-consumer marketing at HISTORY. "Comic-Con is a place to give back to all the people that have been so vocal with us and so active with the show and really, literally engage them and give them something special." Agency: Civic Entertainment Group, New York City.