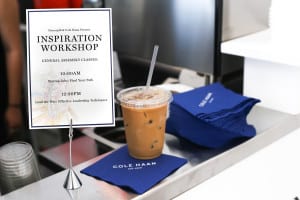 In a bid to attract new consumers and bring to life its History Begins Here ad campaign, 85-year-old fashion brand Cole Haan on Sept. 6 and 7 held a workshop designed to inspire and encourage people to begin their own personal histories. More than 2,000 people showed up for the two-day workshop, which took place at Wallplay, a gallery and creative agency, in New York City's Lower East Side.
Outdoor video billboards outside the space displayed the explosive artwork of illustrator Luca Chiriani, which served to draw people into the space. Inside the gallery his artwork adorned the walls along with sketchbooks from the Sketchbook project, a participatory art project in which people from around the world fill sketchbooks with their drawings, stories, thoughts, doodles and whatever else comes to mind. During the day, classes were led by instructors from General Assembly, an educational community of start-ups and entrepreneurs, on motivational topics such as the art of the pitch, effective leadership and cracking the glass ceiling. Evening panel discussions centered on talks with innovators in film and other creative endeavors. Attendees received their own History Begins Here sketchbook to begin writing their own story.
"Cole Haan is a company that believes that substance is the best style, and we want to inspire and encourage people to work for what they believe in," says Andy Gray, creative director at Cole Haan.
The History Begins Here campaign reflects the present history of the brand and a call to action to the 25- to 35-year-old consumers it is trying to attract. Cole Haan was acquired by Nike in 1988 and sold two years ago to private equity firm Apax Partners. "We very much are proud of and embrace our past, but we are separate from that, and the decisions we make now will define the next 100 years for our company" Gray says. "We want to bring the campaign to life and make it meaningful for people when they see it is a call to action." Agency: Flavorpill, New York City.
WATCH—Cole Haan's History Begins Here Workshop and Gallery Event
Photo courtesy: Sasha Juliard