CAMPAIGN: THE DISNEY BUNDLE PAVILION AT
D23 EXPO
CLIENT: DISNEY+, HULU & ESPN+
AGENCY: 2HEADS
---
The Brief | Build the Ultimate Disney Fan Experience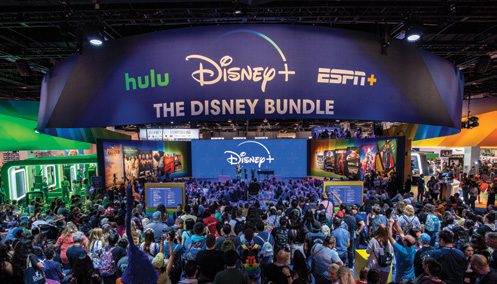 Every two years, thousands of Disney fans descend on Anaheim, CA for the D23 Expo to experience the greatest that Disney brands have to offer and immerse themselves in their favorite Disney content.
2Heads was briefed by Disney Streaming to create an experience that was the central point of the expo; a meeting place for attendees to gather, engage and celebrate their love of Disney. Each brand requested an innovative, magical experience that captured guest participation analytics to measure the success of the event against their own internal KPIs.
The resulting 12,000 sq ft experience brought stakeholders under one roof – ensuring that Disney+, Hulu, ESPN+ shared the spotlight, while supporting each of their unique business objectives.
The Solution | A Branded Complementary Curation
2Heads designed a series of environments that gave each brand their own consumer playground to explore. Mimicking an arena, the space featured a central stage which provided high visibility to a curated selection of Disney Bundle titles and featured a back-of-house for green-rooms, production and our VIP 2nd floor viewing platform.
Using the UX of the Disney Parks as inspiration, 2Heads created line experiences that felt as immersive and exciting as the displays themselves. 2Heads also incorporated RFID touchpoints throughout The Disney Bundle Booth to deliver measurable results in line with the KPIs of each brand.
The Results | A Beating Heart of Content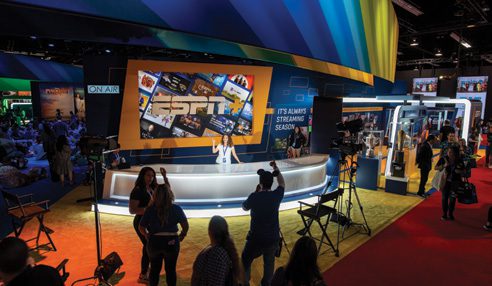 For Disney+, 2Heads designed The Lenticular Wall, a digital showpiece that showcased rolling content on towering, synchronized LED panels. The Interactive Hologram wall was another extremely popular touchpoint, activated by floor pedals, causing Disney characters to drop in and say hello.
The immersive Hulu line experience included a Reality TV Confessional moment where guests could select a digital background from their favorite reality tv titles and receive a digital photo sent via a custom RFID integration with D23's guest management system.
The ESPN+ zone encouraged high level of excitement with the addition of superstar memorabilia like the College Football National Championship Trophy and UFC Championship Belt. The ESPN+ zone included an RFID enabled photo op that put guests behind the commentator's desk in a full-scale recreation of a sports broadcasting studio.
The Disney Bundle Stage welcomed actor Brie Larson to discuss her new augmented reality film Remembering and actor Darren Criss leading a Disney sing-along. The Muppets stopped by to promote their latest film, and Oscar-winning Documentary filmmaker Jimmy Chin and Free Solo climber Alex Honnold shared clips from their adventures.
Event highlights and statistics:
286M Disney+, Hulu, ESPN+ subscribers with live access to the D23 Expo
100,000 in-person guests
5,000 RFID interactions across 3 RFID photo activations
12,000 sq ft footprint
70 pieces of content for The Disney Bundle Stage
4 Unique brand environments
600+ person crowds per session
D23 Expo is the premiere Disney fan event, witnessing the outpouring of love and excitement from fans when doors opened each day told us we had hit the mark and 2Heads were honored to have partnered with Disney+, Hulu & ESPN+ to bring that magic to life.
---
CONTACT INFORMATION: