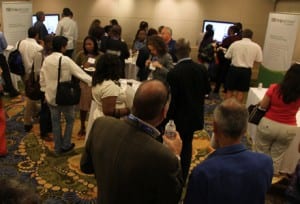 TripAdvisor for Business, the b-to-b division of travel site TripAdvisor, in January held a master class for members of the hospitality industry at Atlantis Resort in the Bahamas. The division, which launched in May 2010, gives hotel operators, restaurants and attractions access to TripAdvisor's 50 million monthly visitors.
The three-hour class educated members of the industry about TripAdvisor's free marketing tools and ways to enhance their listing on the site to increase traffic, how to respond to and encourage guest reviews and other topics. During the class, an awards ceremony took place for winners of TripAdvisor for Business's 2012 Travel Awards, who happened to be in attendance.
An engagement room adjacent to the main presentation room offered attendees a chance to visit with a help desk for customer-service questions, a management center for question and answer sessions and to meet with speakers and destination marketing organizations.
"People really appreciate the face-to-face because often at a website they would love to speak to someone in person and get a fast response, and the class affords the opportunity to do that," Meghan McMahon, brand marketing specialist at TripAdvisor for Business, told Buzz.
TripAdvisor for Business has held master classes in the U.S., Latin America, the U.K. and Asia. This class was its first foray into the Caribbean. Although typically a standalone event, this master class took place in conjunction with Caribbean Marketplace, an annual event for travel industry suppliers and buyers in that region. Agency: Michael Alan Group, New York City.
Photo Credit: Liz Jamieson