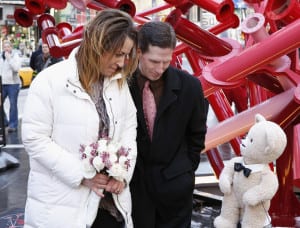 Snuggle, Sun Products' fabric softener and dryer sheets brand, softened cold New Yorker hearts on Friday, Feb. 14, as official sponsor of the Times Square Arts sixth-annual Valentine's Day Heart Design, a public art installation. At the, ahem, heart of the event was the iconic Snuggle bear (a Jim Henson puppet) who made his first live, public appearance—outside of television—in more than two years.
At his post under the sculpture, Snuggle greeted consumers and served as both "Ring Bear-er" and "Best Bear" in a special vow renewal ceremony that morning for a New Jersey couple. The couple was selected during spontaneous consumer interviews with Snuggle filmed in New York as online promotional content for the fully integrated Heart-to-Heart campaign, which focuses on "snuggle-worthy" moments. Check them out here. On top of the vow renewal, one couple actually got engaged in front of Snuggle during the event.
Other experiences included the Heart-to-Heart with Snuggle Truck parked on-site, which offered consumers a warm respite from the cold and a chance to create personal video valentines in an onboard booth to be uploaded to their social network of choice. Brand ambassadors handed out more than 20,000 mini plush Snuggle bears, too.
"When Snuggle is a 'spokesbear' in television ads, he's talking much more about the functional product benefits, but having him out live and interacting with consumers really brings what's special about the brand to life—the fact that we have a character like Snuggle is unique within the category and through him consumers can relate to the brand on a more emotional and direct level," Bibie Wu, vp-marketing for Snuggle at Sun Products, told Buzz.