It's warm and sunny in San Francisco. People are lounging on beanbag chairs spread around a grassy outdoor plaza. Others are playing corn hole toss or ping pong. Music wafts through the air. The fun, relaxed atmosphere feels like Outside Lands, the music and arts festival in Golden Gate Park. But it's actually downtown Howard Street, which has been closed between Third and Fourth streets, carpeted in artificial turf and transformed into an open, urban expanse dominated by two puffy hexagonal structures and blue signage. Attendees are scuttling between Moscone North and Moscone South, heading over to Moscone West, or perhaps to one of the 18 additional venues that also serves as meeting spaces for this gigantic event, the world's largest software conference.
Welcome to Dreamforce.
Despite the ambiance, it can be overwhelming. Salesforce.com's annual event took place from Oct. 13 to 16. Keynote speakers included Hillary Clinton and World Economic Forum executive chairman Klaus Schwab. Salesforce ceo Marc Benioff's keynote featured two major product announcements along with a Coke-delivery drone and a yacht. Former vice president Al Gore, Arianna Huffington, Tony Robbins, spiritualist Eckhart Tolle and rocker Neil Young delivered inspirational speeches. Will.i.am revealed a new wearable device. Bruno Mars performed in concert. Make no mistake: In the world of b-to-b events, it doesn't get much bigger than this.
Dreamforce 2014 drew more than 150,000 registered attendees, another seven million unique online viewers and 400-plus customer and partner exhibitors at expos and showcases. There were 1,450 live sessions and a $1 million Hackathon awarded to developers vying to create the best mobile app. Everyone brought a can of food to help fight hunger, resulting in one million meals donated to the hungry. And they drank 5,000 gallons of coffee—because hey, this is high tech, folks.
You can sleep when you're dead.
---
---
Curated Conference
Launched in a San Francisco apartment in 1999, Salesforce.com's revenues now exceed $4 billion. It employs 13,000 people worldwide. Dreamforce is the ultimate brand expression for the company and its success. But that growth has spawned challenges for the conference, like how to keep it manageable and relevant for attendees, and how to make it feel like a community instead of a cattle call. "We want Dreamforce to be a huge event that is meaningful, that you can navigate with comfort and ease in total security and safety the entire time," says Elizabeth Pinkham, senior vp-strategic events at Salesforce.com.
That challenge is one being felt by many b-to-b event marketers: how to grow along with the industry, while remaining small and accessible to attendees. How to give attendees everything they want and need, without overwhelming them with too much content. And how to embrace the success of a large event that keeps getting larger without losing the quintessential experience that brought people to the event in the first place. It's a challenge that's about more than just logistics. It's an ongoing exercise in content planning, environment design, attendee journey mapping, technology integration and community development. And it's also constantly changing.
Yet despite its size, Dreamforce delivers. From the communities it creates, real and virtual; to the Dreamforce campus, which encompasses three buildings of the Moscone Center and surrounding hotels; to the content, which is presented live and online, every element has been carefully curated so that attendees can zero in on the product, service or knowledge that they need. Attendees also get ample opportunity to network, do good (philanthropy is a major part of Salesforce and the conference, which besides the hungry, also benefitted children and veterans) and have fun. "People come not just for business success, but also for personal success, and a lot of them come on their own dime," Pinkham says. That's saying a lot these days, when many are feeling the squeeze on their wallets.
---
"We want Dreamforce to be a huge event that is meaningful, that you can navigate with comfort and ease in total security and safety the entire time." —Elizabeth Pinkham, senior vp-strategic events at Salesforce.com
---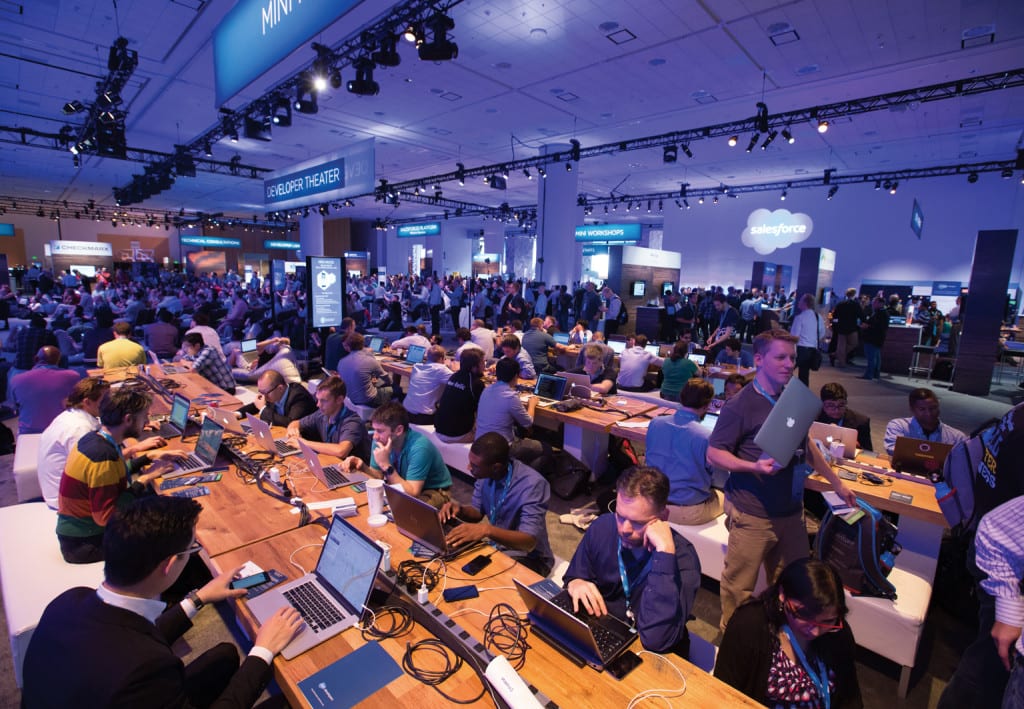 ---
Dreamforce attendees are a diverse mix of Salesforce customers, potential users, partners, philanthropists, analysts and press, each with an environment created to meet their needs. Five hundred invited executives, typically cios, cfos, ceos and cmos, attend a private Executive Summit area located in Moscone South, which houses its own welcome area, registration, even its own entrance off of Howard St. These c-level attendees have been nominated by a sales person and screened before being accepted into the program. They enjoy their own programming and schedules with presentations designed just for them and their own areas for lunch and networking, one of their favorite activities.
A different vibe prevails in the developer zone, a growing community that takes over an entire floor of Moscone West, where attendees get hands-on in workshops, literally building products on top of the Salesforce platform, working with Salesforce staffers, product marketers and engineers. Other hopefuls compete in a $1 million Hackathon, which awarded $100,000 in first-place prizes on the last day of Dreamforce to developers of mobile apps on the Salesforce 1 platform. Nearby, an area for small- to medium-sized businesses has more of a help-desk feel with its genius-type bar for one-on-one consultations. A hub for Salesforce administrators offered certification and training on how to implement, deploy and run Salesforce.
Content Strategy
Hillary Clinton hit the community nail on the head with her keynote speech, which emphasized the importance of face-to-face interaction and relationship building. "There is no substitute for spending time together," she told the audience of thousands.
But Dreamforce delivers on content, too. Three on-site showcases offer attendees opportunities to interact with products and experts from a variety of companies and industries, depending on their needs and interests. The Salesforce Product Showcase (internally referred to as the "campground") offers a trade show-like experience where major partners in Salesforce's ecosystem demo their products and services. Major sponsors include Accenture, CapGemini and Deloitte, along with independent software vendors for apps built on top of Salesforce. All are in full exhibit mode, hoping to meet new partners, hire employees and sell more of their services and products. Think of it as the meeting ground of the year.
Salesforce itself comprises a major portion of this showcase with clearly marked booths for each of its products—Salesforce Community, Service, Marketing, Analytics, Sales, Platform and Apps. The Analytics Cloud is new, and showcased up front, so attendees can see how it plays out on mobile phones. Another section demonstrates wearables, another displays software for desktops.
---
"There is no substitute for spending time together." —Hillary Clinton, Dreamforce keynoter
---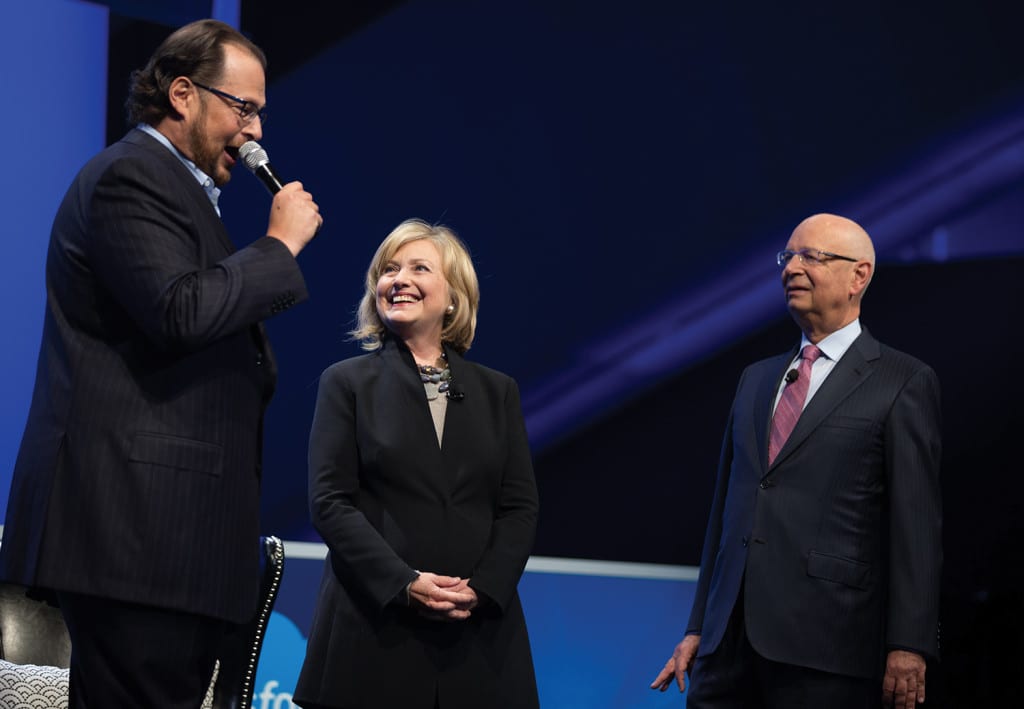 ---
A second expo, the Customer Success Showcase, epitomizes a concept that has been at the heart of Salesforce from the beginning, that of putting customers and prospective customers together at events and getting them talking. Six Salesforce customers—eTrade, Philips, Coca Cola Germany, GE, Verizon and Tesla—show how their products and technology integrate with Salesforce. Philips displayed connected health care, built on the Salesforce platform. Coca-Cola showcased how it optimizes retail sales in Germany with Salesforce. Tesla uses the platform to manage its sales and test drives on Salesforce as well.
The Industry Success Showcase, new this year, divides the Salesforce message by industry sector, highlighting successful customer deployments of its technology in six sectors—financial services, communications and media, automotive and manufacturing, government, health care and life sciences and retail and consumer goods. Attendees sit in on workshops, meet with industry experts and network.
"This is another illustration of how people, even in the middle of the largest software conference on the planet, can still find the area that speaks to them, where they can find people to connect with," Pinkham says.
Community Spaces
Dreamforce utilizes ballrooms and meeting space in every nearby large hotel for additional hubs, zones, demos and networking and, this year, nearly 1,500 informational sessions (Lead agency: George P. Johnson).
"We realized that by virtue of putting these sessions in one central place, we were bringing together this very powerful community, and the magic of Dreamforce is also the networking, the meeting people who become your mentors or perhaps your next employer or your next employee or part of your network for success," Pinkham says. "That magic, that mojo, that momentum, we tried to really turn up the dial on that, and did it this year by creating more zones and hubs and areas where people could sit and talk and really get inspired outside of the session itself."
Part of the strategy is purely pragmatic and practical, and part of it has to do with the inspiration for Dreamforce and the company, which is guided by three core values—fun, innovation and giving back. "We are responsive, we are good listeners and we have a quirky sense of humor sometimes," Pinkham adds.
Case in point: ceo Benioff's keynote with the flying drone and the Frenchman drinking in the yacht and, in keeping with the beach theme, the Beach Boys playing live in one of the hexagons on the plaza. There was karaoke. DJs in the Moscone halls. And to promote the Wave, Salesforce's cloud analytics platform, attendees could pose on a surfboard before a gigantic blue inflatable wave and post the photo with #ridethewave.
---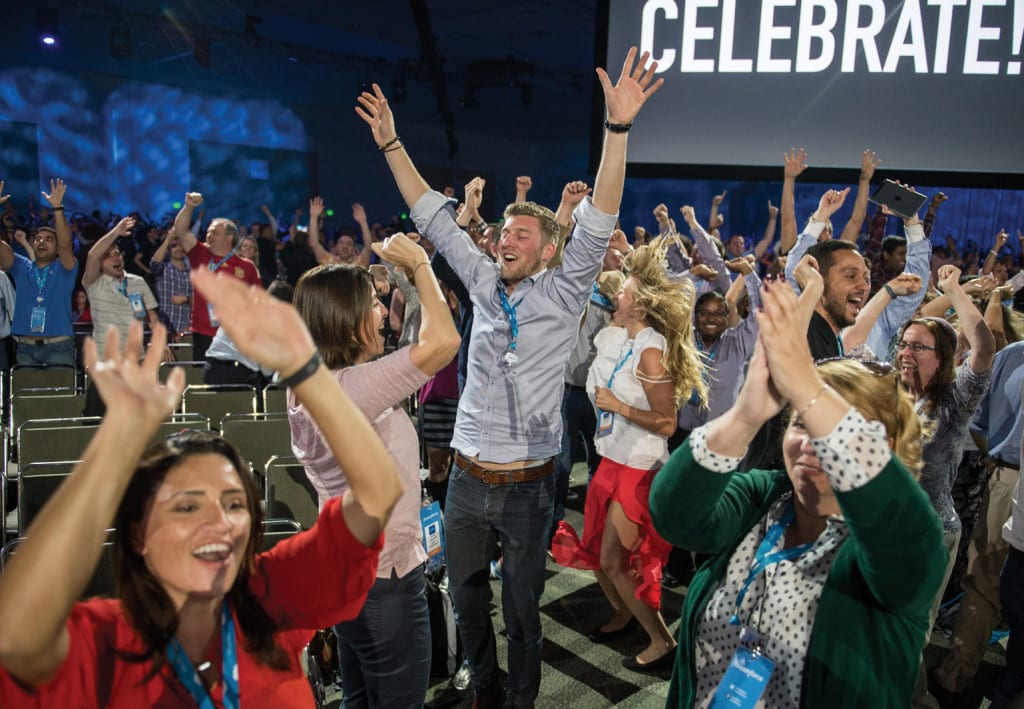 ---
Measuring Return
Salesforce CRM tools follow up post-show with customized messaging based on sessions and exhibits attendees visited. "That is a value to attendees because it is a follow-up that is meaningful and relevant to them and their business," Pinkham says.
Salesforce tools also measure the dollar opportunities represented by the customers that are coming. "We know down to the penny what exactly in terms of pipeline the show represents to the company and we have a target for the pipeline going into the show and a target for the pipeline that will be generated from those attendees in the 90 days following and a target for the close rate on that," Pinkham says. "I have a very specific ROI model for the Dreamforce investment."
Dreamforce is growing online as readily as it is in reality. A Salesforce Live studio broadcasts keynotes, sessions and interviews all day, every day. Everything is posted online on three channels at salesforce.com/live or dreamforce.com. This year, seven million unique viewers logged in, sending a huge message to the company about Dreamforce in the digital realm. "We have to wrap our heads around that," Pinkham says. "That is a huge thing for us now that we will continue with our roadshows."
---
This year, seven million unique viewers logged in to attend the conference virtually, sending a huge message to the company about Dreamforce in the digital realm.
---
Attendees also can use the Dreamforce and Salesforce websites and a Dreamforce mobile app to build agendas and join user groups, where they can connect with marketers, service professionals, sales, developers and others. "For the first time this year we combined the event app with the Success Community that runs on the Community Cloud, so we were talking with our customers and everyone coming to Dreamforce months before the show," Pinkham says.
Besides the websites, there are Dreamforce and Salesforce Twitter chats (@salesforce and @dreamforce) and a raft of hashtags to follow and engage with such as #df14, #dfhelp, #df14Tips, #df14Gives, #DevZone, #servicecloudkeynote and more. Facebook and Instagram offer daily updates and photos. A live, magazine-style editorial and blogger team on-site create real-time articles covering sessions, keynotes, conversations, speakers and more for sales, customer service, marketing, CRM and mobile.
"We have always viewed marketing Salesforce as making it as open and accessible as possible. We never want to close it off. We want everyone who wants to be part of this and to experience it to be able to do that," Pinkham says.
And millions of them do.
More From Dreamforce: