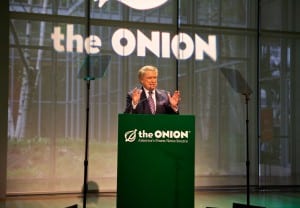 As I stepped into the TimesCenter in Midtown Manhattan April 29, I immediately felt a twinge of regret at my choice of skinny jeans and boots as a handsome tuxedo-clad gentleman presented me with a silver platter piled high with business cards and money… a pile of dollar bills, some neatly folded into swans. The feeling lasted about 10 seconds, because this was The Onion after all. But it was just the kind of atmosphere the brand wanted to set as it lavished advertisers with praise and left such fictional, and absurdly funny quotations imprinted in their minds as this one by Leonardo Da Vinci, "My works have not increased unique impressions or click-through rates. I have accomplished nothing."
While digital publishers across New York City spent that week vying for attention from ad buyers with flashy presentations and reveals for NewFronts, an answer to TV's upfronts, The Onion in true tongue-and-cheek fashion decided it would make a splash by doing what it does best—parodying the whole thing. The two-hour unofficial NewFront event called Blessed Are the Advertisers: A Gala Celebrating Mankind's Noblest Pursuit, was all about experiencing the full power of The Onion and its millennial-attracting content. And like other official NewFronts, it also had a down-to-business mission to promote a new Buzzfeed-like platform called ClickHole and partnership with Jack Link's Beef Jerky.
"It's always great when people can feel like they're in on the joke, so that's why we wanted everyone that attended to feel like they were almost part of an Onion story, and feel ingrained in what we were doing, rather than just observing it," says Rick Hamann, svp at Onion Labs, the brand's in-house advertising, events and p.r. agency. "The Onion way of doing things is to both celebrate and parody an event like this, so when we said we were going to court advertisers, our writing staff said let's do it in a very over the top way, where you're celebrating this pursuit and putting advertisers on par with people like first responders and doctors."
Indeed, as attendees checked in, they were handed a large envelope containing a welcome letter from Onion Labs addressed to "Dearest Marketing God," as well as a signed image of TV personality and gala kick-off speaker Regis Philbin. A gallery displayed a collection of articles (and more famous "quotes") written just for the event with headlines like "Nobody At Capital One Can Remember Why It Put Vikings In Its Ads," or "Merger Of Advertising Giants Brings Together Largest Collection Of People With No Discernible Skills." Just down some stairs, past a giant ice sculpture shaped in a dollar sign, was a formal spread of small-bites refreshments, coffee (with fancy sugar cubes) and water.
Ushers guided us all, about a 100 people, down to the theater room which had plush, red stadium seating. On the stage stood a gigantic gold Onion logo statue and a lectern off to the side under a spotlight. A booming voice suddenly announced Regis, who opened up the formal presentation and described the gig as the "pinnacle of his career." "We wanted to make sure that we had someone that had great star power, but who also could deliver a comedic piece written by The Onion writers," Hamann says. Regis, in his typical manner of outrage, even broke down a few times into chuckles as he read the remarks.
Steve Pacheco, FedEx managing director of advertising, and The Onion News Network's Jim Haggerty were among other featured presenters. Our favorite quote from the segment: "For was it not Nelson Mandela who said, as he lay on his death bed, quote, 'My greatest regret is that I never generated buzz and expanded my brand's reach through a cross-promotional digital partnership with a major lifestyle brand with strong appeal among millennials such as Pringles or Old Navy—I have wasted my life.' The truth is, that you are mankind's truest heroes and greatest humanitarians."
Each speaker announced and set the stage for the introduction of new or continuing original video programming on The Onion, including "Wonderverse," an answer to the Fox documentary series "Cosmos: A Spacetime Odyssey," as well as "We're F*****g," the love stories of ordinary couples and, well, how they came to be doing what the title of the show says—in graphic detail. The 30-minute or so presentation showcased Onion Labs' production capabilities and how advertisers can sponsor content or be integrated with content. It all lead to the finale, the introduction of ClickHole, which is a satirical answer to "clickbait"—content such as lists and cat videos. We had to ask to make sure this was real, in all honesty. And it is. It's launching in June.
The presentation wrapped with guys in tuxedos and a gal wearing a shirt identifying her as a millennial shooting t-shirts into the crowd with launchers, and then we were all invited back into the reception area for green cocktails and networking, and a chance at a prize wheel (for more t-shirts, that is) that asked, What best describes you as an advertiser? And then offered possible answers to land on like, "Staggeringly Visionary," "Morally Infallible" and "Akin to a God." Not only was the reception an opportunity for advertisers to meet The Onion sales team, but also the talent behind the work that the brand does. Much of the writing staff was in attendance, including head writers for The Onion and Onion Labs.
From start to finish, The Onion did not once break character and because of that, we guess it was probably a refreshing break from other events that week. Funny stuff, but in the end it pointed to a very serious fact for marketers and ad buyers—that this is the kind of humor millennials like.
At the end of the reception I looked by the door and saw a table lined with little black gift bags and green tissue paper sticking out of them. Nice. Inside, a notecard read, "In lieu of a gift, a donation has been made in your name to: Advertising." Aw, thanks, Onion. How thoughtful.
Photo courtesy: Boat Ashore Photography