The 2016 Fab 50
The top fabricators serving the event and trade show industry
The 2017 Fab 50 call for submissions is now closed. Winners to be announced early August.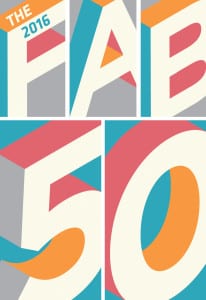 They call it a "good problem" to have—when an industry is on such an upswing that there are more partners to choose from than ever before.
But for your trade show team, and probably your procurement department that sources your trade show RFPs, that "good" problem can translate into a major headache with too many choices and not enough time or information to help you make the right decisions.
In an effort to make your exhibit partner selection process less painful and more informed, we serve up our fourth Fab 50, the only editorial listing of top exhibit builders in North America. This time, you'll recognize seasoned veterans along with relative newcomers. Once again we've provided quick information bites about each company, its culture and capabilities. Whether you're in the market for a trade show exhibit, museum display, outdoor installation or just want to get your creative juices flowin', the following list provides the names you'll need to make it happen.
Congratulations to this year's Fab 50.
See also: