Building off the success of its previous juice bar activations, WE tv in September and October will visit 12 ad agencies in New York City and Chicago with this year's rendition—a selection of artisanal gelatos and sorbets from PopBar, a popular Big Apple ice cream shop. The network rebranded last year, dropping "women" from its name to place more emphasis on the word "we." The juice and PopBars help drive that message to media buyers, planners and account directors and promote the network's programming.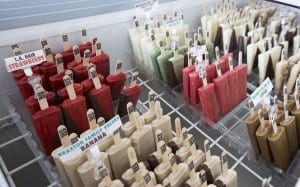 "Since the rebrand, WE tv is all encompassing in terms of 'we,' things that are celebrated and enjoyed together,'" says Andrew Schulman, vp-ad sales marketing at WE tv. "Our juice bar and now the PopBar activations exemplify that perfectly. We are constantly reinforcing brand messaging when we visit agencies with this, not only from what we're pushing out, but we want people to engage. We think these events are an opportunity to do that."
The network is enticing agency personnel out of their cubicles and offices to a WE tv-branded experience that offers a selection of 250 tasty PopBar treats on a stick. Names of the flavors tie to the network's original series, such as the "Braxton Family Values" Banana Pop. Video walls display WE tv show titles, names and faces, and attendees are encouraged to take selfies while posing with a standing PopBar prop. Attendees also can register to win a pair of Beats headphones. Agency: Allied Experiential, New York City.
Photo courtesy: Seth Olenick