Modelo Especial is a beer brand that takes its glassware pretty seriously. For the past three years, the Mexican brew, which dates back to 1925 and is now owned by Constellation Brands, has partnered with artists to create glassware that reflects its heritage of craftsmanship and artisanal qualities. This fall it took the effort up a notch by combining on-premise sampling with a program that had bar-goers sketching glassware designs on coasters, and along the way, driving brand awareness and trial. Voting to determine the top 10 designed is currently underway at designtheespecial.com. The artwork will be used to inspire an artist who will create four glassware designs for next year's collection.
"Modelo Especial became the No. 2 imported beer brand this year, however, a number of consumers still don't know the brand. As a result, we created a program that helps them learn a little more about the brand and gives them a bit more of a consumer experience," says Raul Ruiz, senior brand manager at Modelo Especial.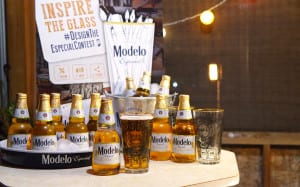 Dubbed the "Modelo Especial Real, Authentic Craftsmen" contest, the eight-week program, which launched Aug. 28, took place at 96 bar events in nine markets (Boston, Chicago, Dallas, Houston, Los Angeles, Miami, New York City, San Antonio and San Francisco). At the events, brand specialists engaged and educated consumers, provided samples and offered a Modelo Especial glass as a takeaway. Attendees were encouraged to create new designs on Modelo-branded coasters that were uploaded to the contest site or to Instagram and Twitter via #designtheespecialcontest and displayed at the venue.
"Glassware has an intrinsic connection to our product, and on-premise is a powerful marketing tool that provides the ability to deliver our product and messaging to consumers through storytelling and sharing through social media, which millennials love to do," Ruiz says. Agency: Legacy Marketing Partners, Chicago.