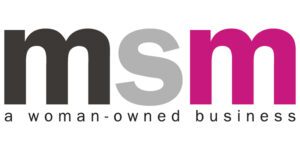 COMPANY CULTURE: The culture at MSM is one of collaboration, creativity, and passion. We celebrate our successes and our most precious assets – our people. Our employees are competitively compensated, have access to generous benefits and receive a wealth of career advancement and growth opportunities through cross-training and leadership development programs. At our core we are a family and are grateful for each other, our clients, and the work that we do.
Our core values are at the heart of our business and our employees embody these values. We search for individuals who:
Express gratitude for others and our coworkers

Will do anything for our customers

Are positive and always finds a way

Thrive in a demanding environment

Always does the right thing, even when no one is looking

Shows they value others in their response time
GREAT WORK: Since 1993, MSM has created custom experiences for trade show exhibits, customer events and corporate & retail installations. We solve brand's face-to-face marketing challenges through innovative design and interactive engagement, while delivering an extraordinary level of service, quality and value.
As a full-service experiential partner, we empower brands to better connect with their audiences through one-of-a-kind activations and transform their event marketing initiatives into flawlessly run programs. Our approach has resulted in accolades from all major industry experts, and long-term partnerships with leading brands, such as PepsiCo, Johnson & Johnson and Palo Alto Networks.
By hiring the absolute best people, MSM has become a leader in the event marketing industry, winning top honors from design awards to topping annual lists of the elite trade show exhibit fabricators.
TEAM TESTIMONIALS:
"I really align with the core values at MSM, especially expressing gratitude for others. A culture of gratitude fosters an amazing team and working environment which allows us to create great work!"

– Carla, Project Manager
"My favorite part about MSM is the inviting atmosphere. Since the first day I stepped foot in MSM I have felt supported and valued."

– Beth Heberger, Regional Account Coordinator
"The people I work with are my favorite part of my job- both clients and coworkers! They make every day exciting and new. "

– Grace Sambuchi, Account Executive
"I love the pace of my role. We work on so many fun projects with great clients and it's a lot of fun."

– Michael Frisk, Account Director
COOL BENNIES: At MSM we provide our employees with an exceptional work environment complete with opportunities for growth, mentoring and training. In addition to a great workplace culture, employees also get the opportunity to work with major consumer and B2B brands. Our employees enjoy competitive compensation, a hybrid work environment, generous paid time off/sick time, a well-equipped on-premise gym for our on-site employees, and so much more!
---
CONTACT INFORMATION: