In an unusual take on the hospitality experience, 3M at South by Southwest Interactive created the 3M Idea Exchange Lounge where guests could kick back and enjoy a cocktail or cupcake but also explore the company's high-tech products, connect with other attendees and share ideas.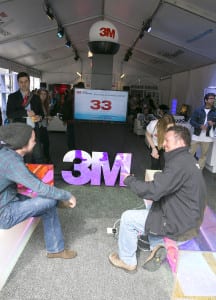 Housed in a 30-foot by 60-foot tent adjacent to the Austin Convention Center, the lounge, which was open daily from 11 a.m. to 6 p.m., offered guests the chance to recharge their mobile devices, network and learn about 3M's multi-touch displays, chemical fluids, adhesives, touch films and more. Guests received free samples of 3M Post-Its and privacy screen protectors. Dutch street artist Max Zorn created artwork using 3M Scotch packaging tape.
A highlight of the experience was the Idea Exchange Twitter balloon, which sat atop a tower in the middle of the space and was inflated as attendees tweeted their original ideas or ideas trending at SXSW to #3MIdeasExchange. Those whose ideas popped the balloon won $500. 3M tracked the most popular ideas on an "idea cloud" on display in the lounge and gave away $10,000 to the balloon poppers.
"This is a very innovative and creative audience that attends SXSW, and you have to earn the right to be there by creating an idea that in and of itself is unique, and you want to do it in a context that is sensible, not forced or contrived," Glenn Carter, manager of innovation communications at 3M, told Buzz. Agencies: Brightline Interactive, Alexandria, VA and Hunter PR, New York City.