We asked Lelia, a National Talent Recruiter for Productions Plus, to tell us her secrets on how she finds the perfect talent for your brand.
Here are 5 ways Lelia recruits for you.
1) What are the first steps you take when filling a job?
Productions Plus has a very loyal talent base. Currently, we have over 26,000 candidates across the United States and Canada.
We always start by sending out email blasts to our internal database, highlighting the requirements for a job. After notifying our internal talent, we post to third-party resources and social media, like LinkedIn, Instagram, Facebook, Twitter, and more, with one-of-a-kind graphics to appeal to the right demographic.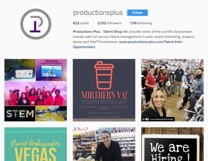 2) How do you know that a person is the right fit for a brand?
Each client is different and we pay attention to the details. To find the right fit for a brand, it is essential for our Recruiters to have knowledge of the brand and understand the client's expectations. Our sales team learns what the client expects and what message needs to be delivered by our talent. We seek out what is truly important to each client. Once we truly understand the style of the brand and the goal of the event, we can begin recruiting.
To ensure the candidate is culturally a fit for the client, this means measuring the candidate's compatibility with the client's expectations. It is crucial to interview a candidate beyond a simple phone conversation. All P+ talent must go through a Skype, Facetime, or in-person interview with a Recruiter or Coordinator before being hired for a job.
3) How do you present the available candidates to the brand?
We typically create a digital presentation showcasing the top available candidates. We present 1-2 photos and full details reflecting why each candidate would be the right fit for the client (location, client expectations, background, education, etc.). We know it is so much more than just how a talent looks. We often take it to the next level by setting up one-on-one phone or Skype interviews with the client. At times, we also request a video or demo reel from the talent so that the client can get a better feel for the talent, and feel confident in their choice.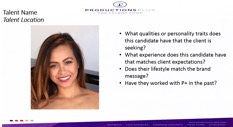 4) Should you need more options, what are some other steps you take to find additional candidates?
It's important to stay up-to-date with the latest recruiting resources, like job search engines, local boards/groups, media, retail and university pages, and classifieds. We have an active talent pipeline that continues to grow every day with the consistent efforts of our recruiting team. We understand that it is crucial to think outside the box and to tap into all possible markets when it comes to ensuring we are meeting client expectations.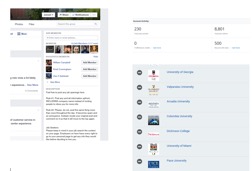 5) What are some exceptional and unusual ways P+ searches for talent?
We go beyond the ordinary steps of recruiting by hosting nationwide auditions and open calls as a more intimate way of meeting new talent in-person. We have also held auditions in a specific location, for a specific brand, to broaden our talent options for a particular job.
We take recruiting seriously at Productions Plus, and we do whatever it takes to find the right talent for the job. Our recruiting team meets on a regular basis to review and assess our efforts and recruitment needs to better serve our clients.
To learn more about our unique services and recruiting efforts contact us now.