John Deere Mall Campaign Gets Consumers Ready to Mow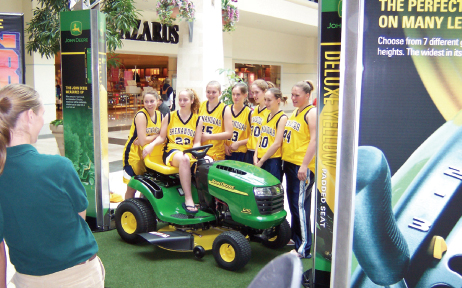 Awards:
EX AWARDS — BEST MALL EVENT PROGRAM
Out to hype the new 100 Series lawn tractor and promote the overall brand, John Deere reached out to men aged 35 to 54 with a mall campaign that built hype and drove traffic to a series of ride-and-drive events at nearby Home Depot stores and Deere dealerships.
"Traditional advertising is important, but once people get on top of our equipment, we believe they are more inclined to buy," says Robert Nelson, John Deere's promotion manager.
Ignition invaded 39 malls in 22 markets over 10 weeks on behalf of the tractor king, erecting a Put the Best to the Test immersion in each center. The footprint had a variety of interactive elements, including a dissected mower deck, an exhibit showing how much lighter Deere mowers are than competing brands, a demo of the Deere's signature fully welded frame (it doesn't use bolts), and a presentation of a 12-point Ready to Mow checklist.
Guests could also hop on top of one of the green-and-yellow bad boys and give the padded seats a tushy test as brand ambassadors talked up the L100 model tractors and the upcoming ride-and-drives. "The program served a number of purposes for us," says Nelson.
Radio remotes added to the on-site allure, as event staffers teamed with local radio stations to invite consumers to the malls and talk up the product. Traffic pushed to local ride-and-drives was bolstered thanks to Deere's mall teams giving away 7,000 literature packets, 6,794 ride-and-drive invites, and 2,500 premiums; and snapping 2,000 e-photos.