Coca-Cola's Drinkable Billboard Samples to the Masses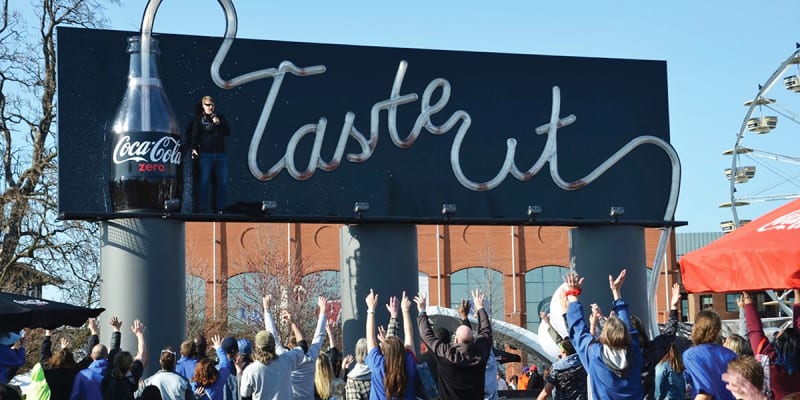 Agency:
OGILVY & MATHER
SPECIALIZED MOBILE EXHIBITS
IMG LIVE
Awards:
EVENT TECHNOLOGY AWARDS
There are the billboards that one sees off in the distance while driving down the highway, and then there is this billboard—one that dispenses fresh, bubbly Coke Zero to masses of Millennials captivated by the 10-foot-high bottle and 4,500-foot-long straw filled with the caramel-colored liquid. The billboard, which debuted at the 2015 NCAA Final Four Music Festival in Indianapolis, literally turned a traditional advertising element into immediate trial opportunities. The result was a unique form of "drinkable" advertising that delivered a show-stopping spectacle.
Designed, developed and engineered over a 15-week period, the giant 26- by 36-foot, 23,000-pound billboard became the centerpiece of Coke Zero's 2015 "You Don't Know Zero 'Til You've Tried It" campaign. From its Indianapolis launch, it has traveled to the Coke Zero 400 NASCAR event in Daytona and the Hangout Fest in Gulf Shores, AL, drawing fans at each event as it appears to magically dispense ice-cold Coke Zero over 10-minute cycles. During each cycle the liquid flows from the giant bottle through the undulating straw that spells out "Taste It" and into a sleek seven-valve dispenser unit located at the foot of the billboard. As the liquid rushes and gushes through the straw, a hidden supply trailer pipes freshly mixed Coke Zero into the dispenser unit for fans to try.
Lighting, graphics and sound subtly add to the experience, accentuating the amber highlights of the soda against the dark, billboard. The 48-foot portable trailer sets up in less than four hours, carries a wind rating of 80 m.p.h. and can be programmed to control lighting, liquid dynamics and product delivery from the touch of a handheld Control 4 tablet, all while upholding the highest Coke Zero taste standards and delivering up to 5,000 ice cold fountain samples over an eight-hour span. The secret? A Bag-in-the-Box multiplex system housed inside a 20-foot supply trailer hidden 40 feet away from the billboard that utilizes an insulated bundle of flexible tubing to pipe ice cold product underneath the billboard and into a seven-valve dispenser unit. The backside of the billboard houses a sophisticated web of 75 valves, eight manifolds, four high-pressure pumps and 16 sensors that work in unison to produce the flow of the show. At the 2015 Final Four launch event, the Drinkable Billboard anchored a 60- by 100-foot activation zone that included interactive games and sampling experiences provided by Coke Zero.
The billboard at the Final Four distributed approximately 10,000 Coke Zero samples and garnered more than 40 million media impressions. Its #OPENTOTRY social campaign reached over 6.9 million Facebook and Twitter impressions, proving that drinkable billboard advertising is an innovative approach—and a tasty one, too.