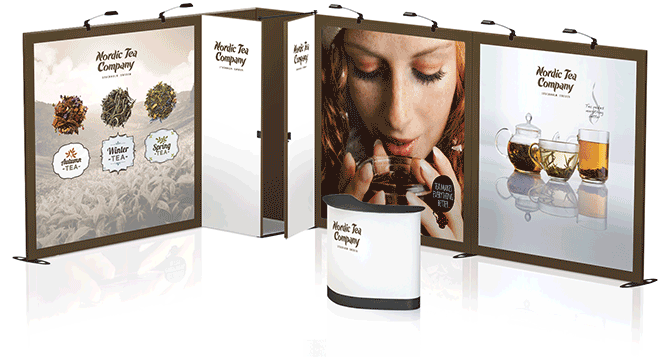 The Expand GrandFabric is a free-standing portable and modular display system available in different sizes and straight and curved shapes.
Alter the Shape & Size for each event
With the Expand GrandFabric system, easily create the display setup that best fits your needs for each event. The individual backwalls (both straight and curved) are easy to connect and combine as you like. Use the walls stand-alone or connect multiple backwall units to create a variety of different unique configurations. This flexible solution can be altered for each event. Create the shape and size the best fits your needs each time.
Just as perfect for the large tradeshow as for the product launch at the mall!
Add Accessories:
• Table
• Shelves
• Monitor Holder
• etc.
Add storage space for endless possibilities:
The units that are used for building the storage can be connected to all of the Expand GrandFabric walls (every shape and size) – or used separately as stand-alone walls. This gives you even more configurations that you can use for future events. All of the backwalls can be connected to one another with the different feet and connector options.
Easy to Set Up:
• Click the 4 units together
• Pull the pillow case fabric grahic over the frame
• Close the zipper
• Attach the two feet
• Ready!
Easy to Transport:
The Expand GrandFabric is delivered in a nylon bag on wheels. It also fits into the Expand PodiumCase, a combined counter and transportation case. Simply pack the Expand GrandFabric into the ExpandPodiumCase and roll it away!
Read more about the Expand GrandFabric on the Expand website: Expand GrandFabric »