You've walked your dog hundreds of times before, but you've never been on a dog walk like this. This past summer, Moderne teamed up with Best Friends Animal Society to spread the word about the Strut Your Mutt, a pet and owner charity walk and event that raises money towards saving the lives of homeless pets across the country. But how did we capture the attention of pet owners? By going where we could be seen by both owners and pets – the sidewalk!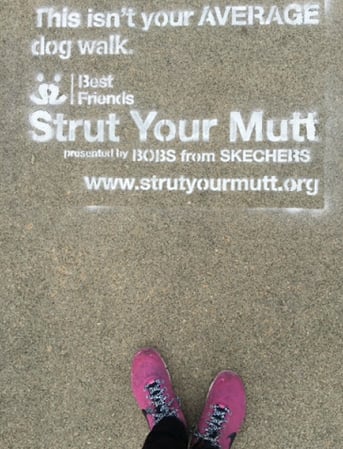 By placing sidewalk chalk stencils where the owners and pets take their walks - parks, dog parks, and other high traffic areas – we were able to increase awareness of the upcoming Strut Your Mutt event. These stencils appeared in major U.S. cities where the Strut Your Mutt events were happening, including New York, San Francisco, Houston, and Los Angeles.
Are you looking to create sidewalk stencils for your business? Want to get the word out with guerilla media? Contact Moderne here!